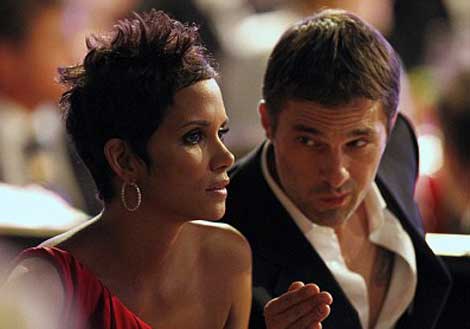 Halle Berry and Olivier Martinez are on the fast track to divorce according to one source close to the couple. The pair, who announced their engagement in 2012 and married in July 2013 at Chateau des Conde in Vallery, France, have recently been living separate lives.
An insider speculates that the reason for the tension is that the pair have drifted apart because of hectic work schedules. Berry is now shooting her new CBS series, "Extant," in Los Angeles, while Martinez has been busy working on "Revenge" in a guest-star role that starts Sunday on the hit ABC show.
Berry, 47, and Martinez, 48, have not been seen in public together in months. Making rumors of their split even stronger, Berry was not wearing her wedding ring as the special guest at a post-Oscars party. Meanwhile, Martinez was nowhere to be seen.
The formerly PDA-loving couple were last seen in public together on Dec. 7 looking glum as they took in a performance of "The Lion King" at the Pantages Theater in Hollywood.
Berry and Martinez have a son, Maceo, born in October 2013. Berry also has a 6-year-old daughter, Nahla, from her relationship with model Gabriel Aubry.
Meanwhile, on the work front, a source who was on the set of "X Men: Days of Future Past," tells us Berry, who plays Storm, was cut out of every scene but one in post-production.
"While filming, her role was reduced due to her pregnancy, but it turned out to be more of a cut than was expected. She only has one line in the whole movie. They're not telling her until the movie comes out."
The "Monsters Ball" Oscar winner has a history of being romantically challenged. She's been married twice before — first to baseball player David Justice in 1993, with the couple divorcing in 1997. She ended up taking out a restraining order against Justice. In 2001 she married singer-songwriter Eric Benet. They divorced in 2005, and he admitted to cheating on her, calling it a mistake.
via the NY Daily News Confidential report