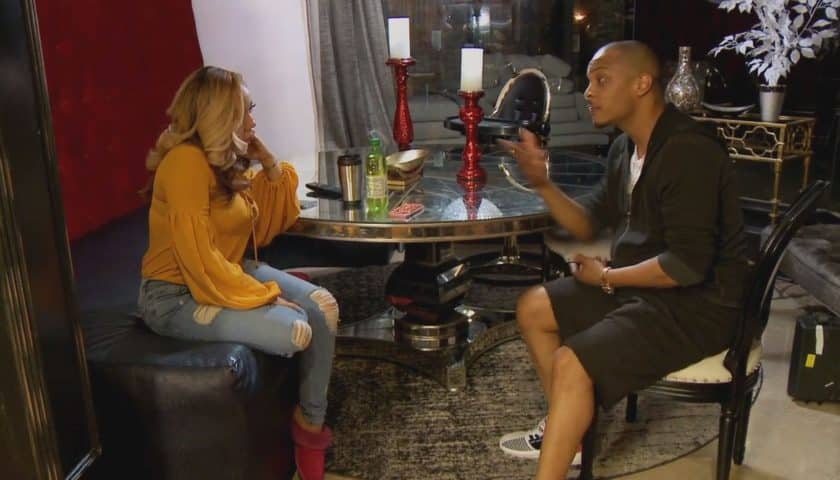 When pressed by producers, Tiny maintains that a certain undefeated boxer had nothing to do with their divorce in this T.I. & Tiny: The Family Hustle Then & Now special bonus clip.
In looking back in their relationship, Tiny and TIP both reflect on the impact they've had on one another. From the time they said, "I do" to now, things have changed drastically and it's too public to not address. Before he was TIP, T.I. was only interested in taking care of his queen, Tameka — a task he took very seriously. The passion was there for about ten years in but in 2017, it's no secret nothing was the same (Drake voice.)
Fast forward to today, things certainly have changed a bit since you last seen them and in the words of Tiny, they "are not divorced but [they're] not together." Due to infidelity with TIP and some random chick, Tiny has since moved out of their precious home. See, the tea at the time was that Tiny was moving hot with an infamous boxing champion but she is steady claiming that that is simply untrue.
Through the good and the bad, TIP will ALWAYS have love for Tameka, so-much-so he even copped her a brand new whip. They have been through it all and bulls–t aside, they were there for one another during plenty of firsts like reaching that milli. Tiny knows things won't work out because TIP isn't in line with the 2017 way of thinking when it comes to the ladies. Still, in purchasing this olive branch, he is hopeful Tiny will always at least recognize how dope their friendship is.