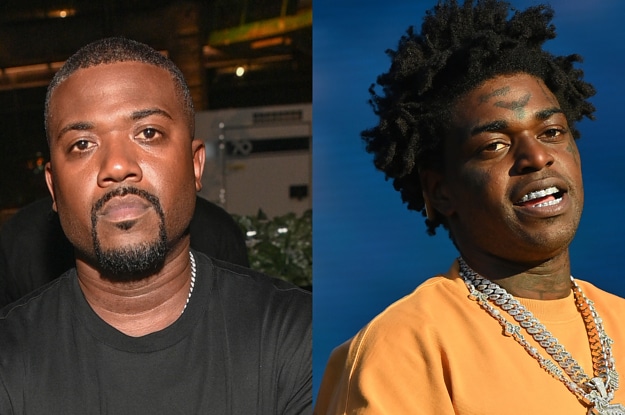 In the ever-evolving landscape of the rap scene, where beefs and controversies serve as both fuel and fire, the latest to grip the headlines involves none other than the "Tunnel Vision" maestro, Kodak Black, and entertainment industry multi-hyphenate, Ray J. As fans eagerly await each artist's next move, the situation seems to be heating up, adding a new chapter to the age-old tradition of rap feuds.
The feud erupted on the popular platform Instagram, where, in today's age, many artists communicate directly with their fan base. Kodak Black's appearance on the renowned "Drink Champs" podcast had already been stirring the pot. Observers and fans began to speculate on the rapper's well-being, with a chunk of the audience raising eyebrows over his demeanor during the episode. Whispers that he might have been under the influence began to circulate, leading to concerns for his health and mental state.
Enter Ray J.
Taking to his Instagram account, Ray J showcased his concern for the rapper, commenting under a post by hip-hop commentator, Akademiks. The message was clear, with Ray J expressing his worry: "Yo somebody need to grab bro and make sure he good. We gotta help this dude." He then proceeded to mention a past event, recalling, "I took him to Trump house, and he did the most." This alleged visit to the former president's residence seemed to leave a sour taste, with Ray J lamenting Kodak's lack of respect. Urging the industry to come together, he added, "Yo @wack100, let's find a way to support him instead of watching him spiral."
But as we know, in the realm of rap and hip-hop, words seldom go unanswered. Kodak Black was quick to respond, taking to Instagram Live with a fiery rebuttal that left no room for interpretation. Addressing Ray J directly, Kodak stated, "Ray J, who the hell are you to think I needed you to take me to Trump?" Criticizing Ray J's approach, he further added that the latter just wanted to "go viral instead of being real" and questioned why he didn't simply reach out privately through direct message.
Yet, as the two artists traded blows, another voice emerged. Wack100, a prominent figure in the industry known for his no-nonsense attitude, shared his perspective, siding more with Kodak. Taking to Instagram, he declared, "Ain't nothing wrong with @kodakblack. Either you understand him, or you don't!" In a nod to the eccentricities that often accompany genius, Wack100 emphasized, "He's being himself. The real legends always stand out."
This recent clash between Kodak Black and Ray J underscores the broader dynamics at play within the rap world. On one hand, it showcases the ever-present concern artists have for their colleagues, especially in an industry marred by tragedies and losses. On the other hand, it sheds light on the complexities of navigating fame, public image, and personal boundaries in the age of social media.
With eyes fixed on their next move, only time will tell how this feud evolves. Will there be reconciliation, or will lines be drawn deeper in the sand? 🔥🎤🍿.