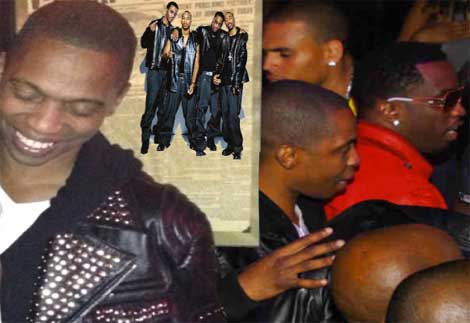 Another 'Bad Boy' Busted!
HSK Exclusive – The man who once managed 90's R&B group 112 is being compared to the likes of Chris Stokes. We're told Kevin Wales has used his position in the music industry as a tool to turn out teen boys. That could explain why Jre Riley — who was featured in MTV's 'Making The Band' — turned down Wales' offer to take the R&B singer straight to Bad Boy Records.
"Kevin Wales wanted to develop project then take it to Bad Boy. Unfortunately, the contract wasn't in the best interest of Jre to sign, so he didn't take it."
During his haunted heyday, Kevin Wales [Puffy's former BFF] lived a lap of luxury. But the music manager appears to have been forced to face his own karmic destiny. That's because our tipster tells us dude's record label Worldwide Entertainment went bust over hiss excessive spending on exotic whips — and trickin' on men and women — to the tune of $20 million dollars!
Here's the drop:
"Kevin was dating Daron Jones from '112' on a DL, and he turned out Lil Zane. Puff knows all about it. He got a percentage of all of Kevin's acts."