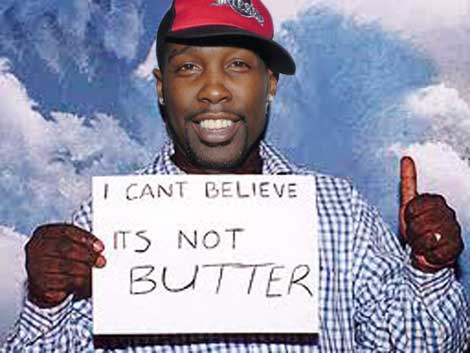 "Father's so desperate but I never saw it. I thought it was about the music. But I got scammed." ~Amie
HSK Exclusive – Another alleged victim – said to be scammed by Father MC – is speaking out. You may remember we first told you about the Armenian woman the former rapper was passing off as his girlfriend, spreading word that she's Kim Kardashian's cousin.
Now, that woman is stepping forward to expose the 'Treat Them Like They Wanna Be Treated' lyricist as a liar and a cheat.
According to Amie, she met Father MC – aka 'Fam' – after answering a Craigslist ad she says was listed by Father's partner-in-crime, James Callahan – aka 'JJ'. That's before she says the Killer Rabbit Studios owner hired her to serve as a go-go dancer at the recording studio. Amie says not only did she not receive the money she was promised for the job, but she also became connected to a man who stepped to her with his hands out. We're talking about none other than Father MC.
Here's what Amie revealed:
"Well to clear the rumors he WAS asking me for money to supposedly try and shop for a record deal from Universal Records.

I actually met him through his friend James Callahan aka JJ owner of Killer Rabbit Studios in Studio City on Colfax Ave crossing Ventura Blvd which is also the location where Father MC lives up the street.

I had met JJ through a Craigslist add which was posted for go go dancing at his bar portion of the studio at Killer Rabbit.. As I was there for a supposed audition in which I never got paid in promise of more work to dance free that night.

Anyway then I met a black male there who introduced himself as Fam. That's all he said then he was hitting on me clearly and was dropping names to make me feel like he's famous and can do wonders for my music career. He told me "Wow! I can help you excel". Then asked me to speak to James and tell him that I'm interested.

I was recording with Fam and Fam wouldn't charge me anything but James charged me money… I still haven't got my CD yet with my song which is not anything special. Father said he supposedly shopped my song around… Yaaaa right!!! No results.

I'm just another victim, I'm NOT his girlfriend. I did not ever and will ever sleep with him. Father's so desperate but I never seen it. I thought it was about the music. But I got scammed."