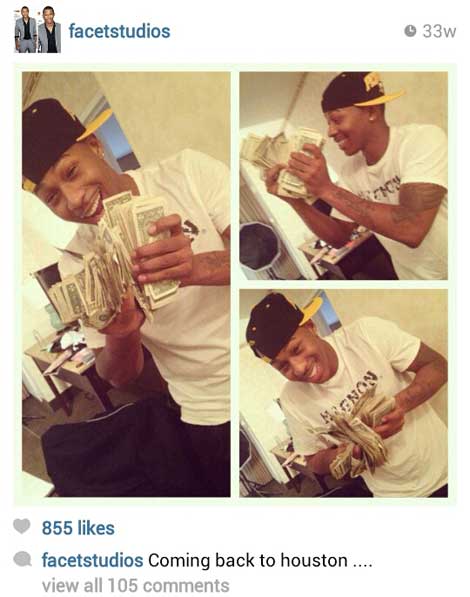 Scam Exposed!
HSK Exclusive – The urban modeling world is being rocked as news of a scam surfaces – pointing to a pair of leading players of the industry as taking more than 50 models for big bucks, while capitalizing on their stolen pictures.
According to a model who has chosen to remain anonymous, Black Men Magazine's Editor-In-Chief – Marcus Blassingame – and celebrity photographer – Suliman Facet Hasan (both previously dubbed the gay Black Bonnie & Clyde) – are using their positions to pull a fast one on both up-and-coming and established models.
Our source says she paid Suliman Facet Hasan five-hundred dollars for a two day photo shoot, set to happen during Houston's All Star game weekend. We're told she was promised the 150 images – including "two looks" – would be relayed to Blassingame, who was to use a chosen set for a Black Men Magazine spread. But, the shoot never happened. Know why? Because our source says after her deposit to Facet's account cleared, not only did she not hear back from him — she also discovered the Facet Hasan-Blassingame pair have long been conning other models, like her, out of their cash. Don't believe me.. Ask DJ Kay Slay.
Here's the drop:
"Facet told me he would publish my photos when I paid. He lied, like he did to fifty other models.

I didn't know Facet was on the rip off report. I found out he was slime after I paid him a deposit of five hundred dollars.

Facet is ripping off models that f–k with DJ Kay Slay too."
This isn't the first time Suliman Facet Hasan has been accused of such. Back in 2009, FlixChick Sonia Mckie took to YouTube to expose the photographer as a "shady" individual with "poor business dealings".
Here's was Sonia Mckie revealed:
"I've sent him celebrity clients, I've sent him clients that have paid him a lot of money, I have had three other photo shoots with him – which I paid. And, I might add — all three photo shoots, I can say I'm missing one or two more pictures that I paid for, but never received."
Take a look: