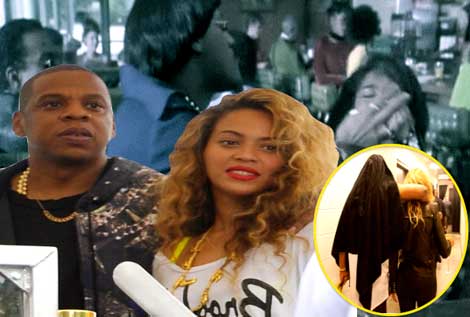 No one can deny that Beyonce straight jacked the essence of Anna Mae 'Tina Turner' Bullock, but Mr. and Mrs. Carter could be the spitting image of what's depicted in the [very one-sided] movie "What's Love Got To Do With It" … in which Hollywood paints Ike Turner as a relentless wife-beater.
That's the type of husband Jigga admits to being.
Hova makes the revelation on Beyonce's music video "Drunk In Love" — with Beyonce happily standing behind him while mouthing Jay's words.
Check out a snippet of Jay Z's verse in the song:
"I am Ike Turner
Baby know I don't play.
Now eat the cake, Anna Mae.
Said Eat the Cake, Anna Mae"
Does Jay Z force Beyonce to walk seven steps behind him? Of course! Don't believe me … Just ask Bey's cousin, Angie.