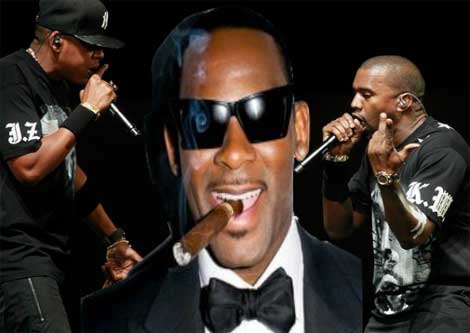 "If we got together again on one of these days in that studio, some magic is gonna happen again." ~R Kelly
That's what R Kelly had to say about possibly reuniting with Jay Z and Kanye in the recording booth. Sources say the thought of R Kelly rejoining forces with Jay Z shouldn't be surprising. Know why? The pair could have a lot more in common that you may think! Don't believe me.. Just ask Foxy Brown.
"Don't be fooled into taking R Kelly's use of the word 'magic' lightly. Certain sexual practices are performed in ritualistic practices."
R Kelly's track record, said to involve the sexual degradation of multiple teen girls, may be making headlines … but insiders say he's not the only sexual sadist one in the 'Best Of Both Worlds' equation. Let's take it back to 2011, when Fox Boogie blasted Jigga [then 27] for taking her virginity when she was 15-years old. The 'Ill Na Na' lyricist's revelation uncovered shocking similarities to what's laid out in court docs filed against R Kelly, who's said to have lured some of his alleged victims by taking them shopping for kicks.
"He [Jay Z] funded her [Foxy Brown] shopping trips, and pampering at hair and nail salons, while she was still in high school."
Here's what R Kelly had to say:
"We [he and Jay Z] walked on the moon first, right? In this business, man, you just never know. It happened once, it happened again. You just never know. One thing that is certain are more "Trapped in the Closet" episodes. I got 50-something chapters in the studio just waiting to be shot and then there's more to come. It's just one of those forever things, man.

I love a good marriage — I love love. Anything that works for me, anything that feels good to my soul, that feels like this is what I should do, I'm gonna do it.

A lot of people didn't believe in Kanye, a lot of people didn't believe in me. He's a genius in his own right and he's on top now. That's why I know if we got together again on one of these days in that studio, some magic is gonna happen again."