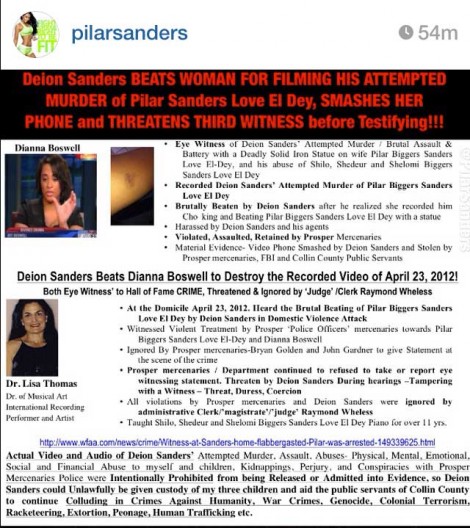 Since Pilar Sanders joined the Moorish Divine she's dedicated a great deal of time to exposing her ex husband Deion Sanders.
In July, the former model accused her legendary NFL playing husband and his girlfriend Tracey Edmonds of kidnapping. Now she's accusing her ex of attempted murder.
Four days ago Pilar posted the document pictured above, a typed document. In bold red letters it reads, "Deion Sanders beats woman for filming his attempted murder of Pilar Sanders Love El Dey, smashes her phone and threatens third witness before testifying!!!!"
The document has bullet points and pictures of two women. The caption to accompany the post reads:
#MOORtruth #DeionSanders #BEATS and #THREATENS #DiannaBoswell #DestroysEvidence -threatens and Refuses to pay #DrLisaThompson $5,000.00 For Piano Lesson Bill because she Testified! #RaymondWheless doing Business as 366th #CollinCountyCourt #ConcealedEvidence so #DeionSanders could Help Him and #CollinCountyColluders Continue #InternationalCrimes #InquisitionOperations #BlackChristianCodes1724 #KingAlfredPlan #Genocide They Kidnapped My Three #Indigenous #MoorishAmericanChildren – Deion Sanders Sells a show-he couldn't get without my children and #ForcedToFilm his 'realityshow' for #OWNNETWORK #Peonage #HumanTrafficking #Racketeering #ViolenceAgainstWomen #CHILDABUSE
Pilar's Instagram is dedicated to these type of posts labeled #MOORtruth with documents, photos of battered women, graphs and unthinkable accusations.
In addition, Deion refuses to pay his ex's lawyer fees, which he was ordered to pay by a judge two years ago. An impending lien on his property and assets could force him to pay the $250,000 tab.
The pair were married for 12 years before they split in 2011. They share three children together.
 via CentricTV