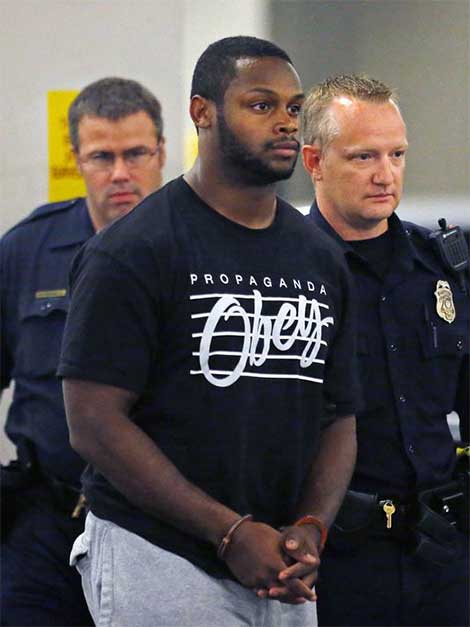 When it rains, it pours!
Arizona Cardinals running back Jonathan Dwyer was arrested Wednesday on aggravated assault charges in connection with two altercations at his home in July. One of which involves a woman and an 18-month-old child, the latest in a string of such cases involving NFL players.
The Cardinals said they became aware of the situation on Wednesday and are cooperating with the investigation. Dwyer has been deactivated from all team activities. The NFL said the case will be reviewed under the league's personal-conduct policy.
One of the counts was "aggravated assault causing a fracture" against the 27-year-old victim on July 21.
Neighbors heard a fight and called police, who showed up at the residence. Police Sgt. Trent Crump said Dwyer hid in the bathroom until police left. The next day, Crump said Dwyer snatched the woman's cellphone and threw it from the second floor of their home to prevent her from calling police about another violent outburst.
The woman came forward last week, providing police with information about her injuries and text messages that indicated Dwyer "was going to harm himself because of what had been going on," police said.
Dwyer, 25, signed with the Cardinals earlier this year and is their second-string running back after spending the last four years with the Pittsburgh Steelers.