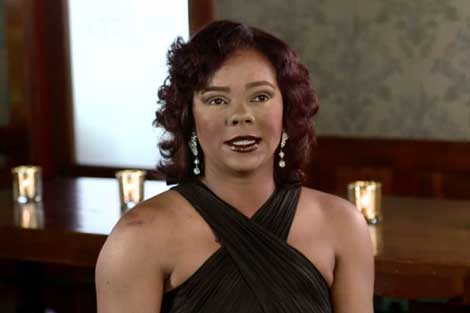 HSK Exclusive – Heroin may be the reason behind why Martin Lawrence's engagement to actress Lark Voorhies didn't lead the pair to make it to the alter — Or, it could be that her break-up from Lawrence led her to start shooting the deadly drug into her veins. Whatever the case may be, industry insiders say the "Saved By the Bell" actress isn't just a raging alcoholic…she's also a heroin addict. Don't believe me.. Ask Martin Lawrence.
Here's some sizzling hot Monday morning tea about Lark Voorhies:
"Lark told Martin she was a virgin, she lied. Her and Martin were about to get married, but Martin found out Lark and her mother were only after his money.

When Martin dumped her, she went back to hanging out with Hollywood white boys. When you're hanging out with white Hollywood, you do a lot of drugs. Lark went Rock and Roll and became an alcoholic with a bad heroin problem. She's been in and out of rehab, that's why she looks so f*cked up.

Jacky, Lark was shooting dope into her veins and shit, she's a f*cking drug addict. I honestly don't why black folks be tripping on her? Cause she don't like them. Lark Voorhies is a white girl in a tanned body."
Do most child stars end up living a tragic adult life? Of course they do. Don't believe me.. Ask Cory Feldman.