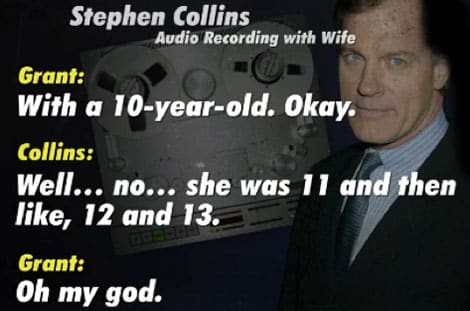 Stephen Collins wife Faye Grant leaked to TMZ, the audio tape of the "7th Heaven" actor admitting to molesting multiple prepubescent children. Know why? Because Stephan Collins and his soon to be divorced wife Faye Grant are going through a nasty divorce and Grant is using the press to gain leverage in the couples divorce.
Grant did it for money, not to seek justice for the victims or to prevent more children from falling prey to the pedophile actor.
An insider is saying actress Faye Grant's legal team turned over the audio recordings to TMZ and that's why the media outlet is a hundred percent sure the voice on the audio is Stephan Collins.
On the tape, Collins is heard talking to Grant and to a therapist about exposing himself to underage girls. One was 11 when he started and Collins says it continued to when she was 12 or 13 years old. That particular girl is thought to be a relative of his first wife Marjorie Weinman.
Stephen Collins said on the audio recordings:
"There was never any conversation… There was one moment of touching where her hand, I put her hand on my penis."
Police are investigating, but at this point no charges have been filed against Collins.