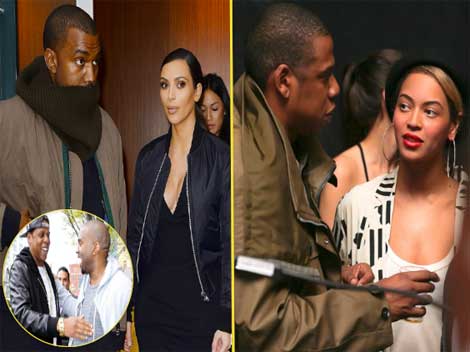 "The thought of popping up in KUWTK mortifies Beyoncé."
Jay Z didn't have any problem with backing Barneys' Stop, Friskin' and proven Racial-Profiling. Mr. 'Marcy Projects' Carter didn't even flinch when he endorsed the beginning of Brooklyn's gentrification, signing up as the sell-out face of Barclays Center. But giving E! cameras even the slightest chance to film him, Queen Bey and baby Blue — when Kanye and Kim exchange their 'I dos' — is something Jigga's got a big problem with. Don't believe me.. Just ask Beyonce!
"Bosses at E! are desperate to get the nuptials on air, and will pay millions to make it happen."
According to a source… Queen Bey, "isn't prepared to lower her standards for anyone, or any occasion…and purposely keeps herself away from trashy TV." That's said to be the reason why Holy Hova's reportedly refused to stand in as Yeezus' Best Man, during Kimye's wedding in Paris.
Here's the latest:
"Jay initially agreed, but had one condition — he, his wife Beyonce and daughter Blue Ivy wouldn't be caught on reality TV cameras under any circumstances. Even as Kim Kardashian claims she wants a small intimate wedding, most likely it will be filmed for her reality show on E!, yet that has not been set in stone as of yet."