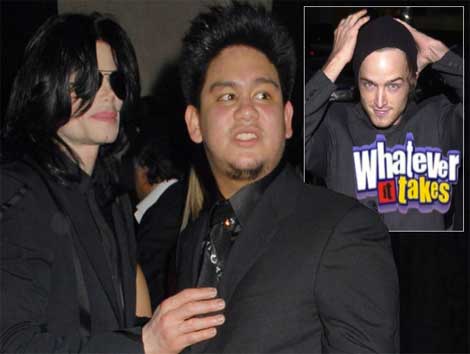 "I actually haven't seen Michael since, but I kind of stayed in touch with the Prince of Brunei."
Aaron Paul Sturtevant may have revealed the "long weekend" he says he spent "getting drunk" with Michael Jackson and Prince Azim Of Brunei, "before he was famous" — but the actor admits there's a lot more to the story than he's telling. Don't believe me.. Ask Jimmy Kimmel.
"I was going into the hotel room and one of the Prince's friends says.. 'Hey, the Prince wants to talk to you.' I go, 'Okay.' So I go down to this giant library and the Prince is inside the library with Michael Jackson. It was just Michael, the Prince and I talking for about an hour."
While other news outlets appear to remain focused on the Aaron's reported turnt up time with the King of Pop, some of the small details spilled seem to be overlooked. That's because Aaron Paul's recent drop doesn't only reveal him to be another dude's "plus one" date to Prince Azim's party, those could have been the Royal grounds where the "Whatever It Takes" leading man landed his big break to 'Breaking Bad' success…
"He said, 'Oh my God. You played Floyd in Whatever It Takes," Aaron relayed, referring to one of his first movies. "He [Prince Azim] too a liking to me."
Here's what Aaron Paul told Jimmy Kimmel:
"He [Prince Azim Of Brunei] invited me out to his younger brother's Sweet 16 birthday in Brunei. I was like, 'Sure, I'll go. Can I bring a couple of friends?' And he's like, 'Yeah, bring whoever you want.' So I brought a couple of buddies and we were hanging out in Brunei for about a month. And then he said, 'You gotta stay at the Palace'… his Palace. He has his own zoo. The one night that I stayed there he insisted that I sleep in his bed… not with him… I didn't sleep in the bed with him. But it is a giant thrown.. and so I slept on it… and all of his friends slept on little pads all around around the bed. And he insisted on watching, 'What Ever It Takes' — this movie that I did that he loved me in. I love him to death."
Did Aaron Paul passive aggressively diss MJ by making it a point to tell of MJ's 'medium tag' still on his shirt? I don't know… what do you think?