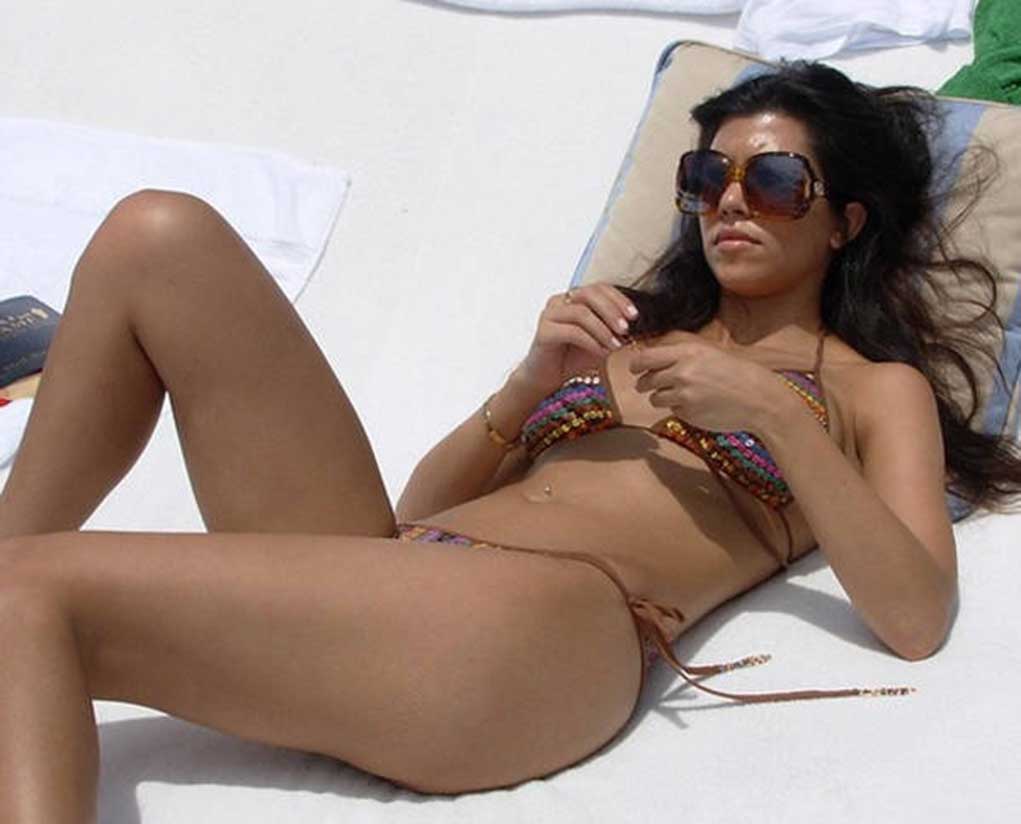 A Picture Is Worth A Thousand Words!
HSK Exclusive – Kim Kardashian seems to not be the only member of the reigning reality television family to have a documented porn-filled past – and she may not have been the first either. One insider exclusively tells HSK a slew of sexually graphic images of the Kourtney Kardashian sex tape series are back on the bidding table, and I've personally seen them. I can confirm they are detailed and extremely explicit!
In addition to the said visually-documented Kourtney K past sex session, I was shown a package of pictures which also include never seen before evidence of Kim K – without the breast and buttocks implants – boasting a body that could be equivalent to that of a 40-plus-aged woman who has given birth to multiple kids!
Here's the drop:
"Kim bought her breasts and her butt. Period. Pictures of Kim K are about to be released, proving she's lying about her 'natural' assets.

It's no secret, Kim always had porn in her. Archive pics of Kim playing with herself prove that! She seems to have been taught well by her big sis — Know why? Cuz up to twenty photos of Kourtney getting smashed in a hardcore way are about to come out too!"
You may remember back in 2007 (here), word of a dozen explicit images of a nude Kourtney Kardashian caught in several sexual positions with an unidentified male; and nudes of Kim (before she went under the knife), began to spread. It was a story which eventually died down after the Kardashian camp claimed the never-released photos were taken of the pair while they were under the legal age.
Here's a statement released by a rep for the Kardashian camp, back in 2007:
"Any publication that would print these pictures, which are considered child pornography, will be subject to the same criminal investigation as the agency who is attempting to sell them."
The problem with the past Kardashian-claim is this: an insider has revealed the sexually explicit images of Kourtney Kardashian were taken while she was living in Tucson — attending The University of Arizona. To be sure, Kourtney's educational history dates her transfer — from Southern Methodist University in Dallas, Texas (where she studied for the first two of her four-year college education — to The University of Arizona, happened in 2000; leading to Kourtney to land her Bachelor's Degree in Theater Arts in 2002. According to the source, that would mean Kourtney – born in 1979 – would have been between 21 and 23-years-old at the time the pictures were taken.
That would mean the underage claim by the Kardashian camp is a farce — and may explain why not only were there no arrests made after the FBI investigation into the said photographer reported to have shopped the photos, but also why that same photographer's name is now often credited as a regular on location Kardashian-camera man — currently lending his services at red carpet happenings, photo ops, and the like.
originally published October 08, 2012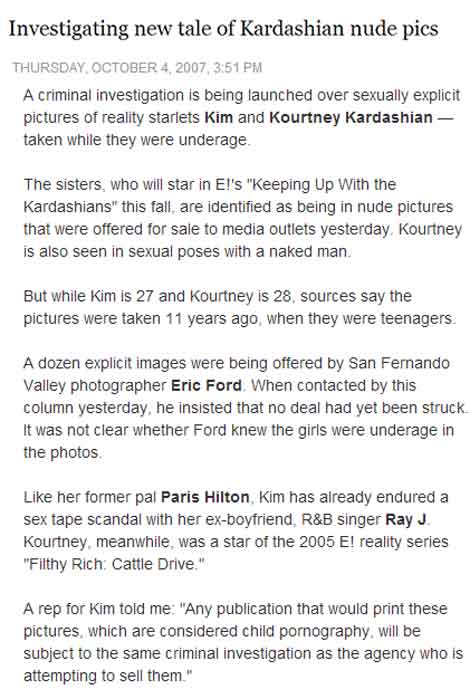 Originally Published on: Jun 17, 2015 @ 02:33