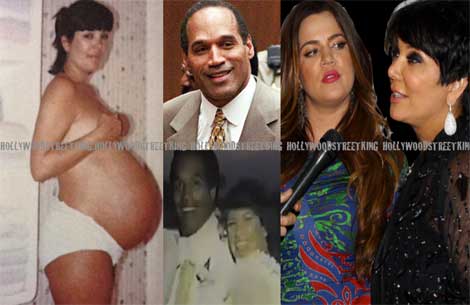 "Khloe reached out to O.J., and he told her point-blank that he is her father and that he loves her. Kris told Khloe to forget about him."
O.J. Simpson has been saying he's Khloe Kardashian's biological father for years, but now The Juice says he's got proof — penned by Kris Jenner, herself!!!
"He has a letter Kris Jenner wrote him back in the '80s telling him that Khloe Kardashian is his daughter."
When it comes to Kris' affair with O.J., the cat's been out of the bag. And, no one can deny the striking similarities between Sydney Simpson and Khloe Kardashian … but Kris is apparently banking on the dirt O.J. has on her, being locked away with him. Now, the key to Khloe's paternal dad could soon be falling into Bruce Jenner's hands.
"O.J. is infuriated that Kris keeps insisting he's not Khloe's father and has turned her daughter against him."
Here's what a source reveals:
"He's vowed to get even with her someday and says helping Bruce in the divorce is a golden opportunity. O.J. wrote Bruce a letter when he heard about his split from Kris. He said he could help Bruce win millions from her."
Was Kris Jenner bustin' it wide open for O.J. –backwhen she was supplying him with cocaine? Of course. Don't believe me.. Ask porn star Porsche Lynn.