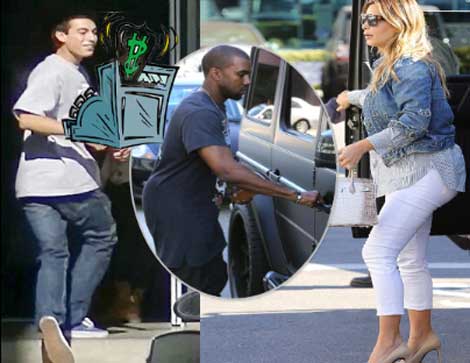 "Kim just stood there and silently watched the beating."
It appears Kimmy Fake Kakes was creaming in her panties during Kanye's alleged attack on the teen she sic'ed him on! Don't believe me … Just ask Kris Humphries, who she just announced is less of a man than Yeezus.
To be sure, we're not talking about a fair fight. We're talking Yeezus' alleged attack on a teen, whose bark was much bigger than his non-bite. One witness says, "The kid was covering his face but Kanye was unrelenting."
Now … for anyone who doubted Kanye's steroid abuse before, recent reports of the 'Black Skinhead' delivering 'more than 30 blows' to the teen should leave you guessing NO MORE!
Here's the latest:
"Kanye West was like a boxer going in for the kill. The 18-year-old was sitting in a chair as Kanye made a beeline for him and, without saying a word, started slugging him in the face.

The receptionist was screaming, 'Stop, stop,' but Kanye ignored her. The kid quickly curled up into a ball to block the blows. The massage therapist rushed into the waiting room and pushed Kanye off the kid and ordered him out of the office. Kanye got out of the building and Kim went to another office for a meeting."