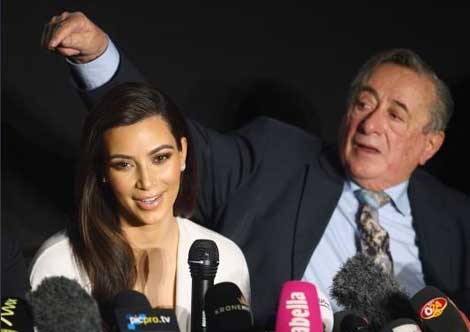 It turns out the man said to have sent Kim Kardashian fleeing from one Billionaire's Opera Ball isn't only a real character — sources say Richard Lunger put him up to "playing Kanye, in blackface."
Sources say the 81-year-old Austrian tycoon reveals he couldn't get Kimmy Kakes to leave soon enough!
"Kardashian was approached by local reporter Chris Stephan, who had dressed as her fiancé Kanye West– complete with blackface. Stephan later claimed he had been put up to it by Lugner."
Previous reports surrounding Kim's $500,000 date with Lunger pointed to "a prankster" saying this to Kim: "I'll dance with you if the orchestra plays N*ggas In Vienna" — leading her to bounce from the Thursday night event. Richard Lunger has since spoken out, revealing how Kim K' ghost move was doing him a solid.
Here's the latest from ROL:
"He date didn't exactly rush after her. Richard Lugner professed to being "relieved" when the reality star left the party, finally putting an end to their bitter few days together — for which he had paid $500,000.

She's already in bed," Lugner complained when approached by reporters near the end of the ball. "I'm relieved. She's a b*tch."