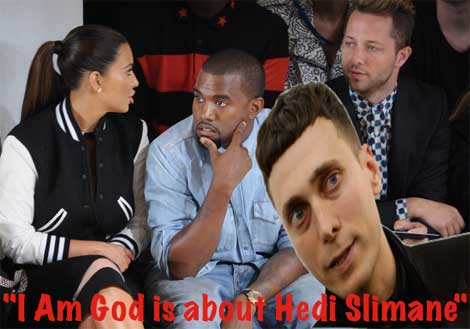 …Besides His Bromance With His Italian Stallion
It appears even Riccardo Tisci can't save Kanye from being blacklisted in the fashion world. Don't believe me.. Just ask former Dior designer Hedi Slimane, who the rapper recently blasted for trying to "control" him.
"It's like, Yo! Nobody can tell me where I can and can't go. Man, I'm the number-one living and breathing rock star. I am Axl Rose; I am Jim Morrison; I am Jimi Hendrix. You can't say that you love music and then say that Kanye West can't come to your show." ~Kanye West, "I Am God"
Now, fashion insiders are revealing Yeezus would have been better off coming clean with his bromance rather than marrying a lard azz beard, who fashion's elite are said to "cringe when they see."
Here's what said Kanye onstage at Madison Square Garden, Saturday:
"He was once a friend of mine, in the time of Christian Dior. And I used to wear his tight-ass jeans when I was on tour and get called names for it . . . And Hedi Slimane was a god who didn't serve no bullshit . . . But it takes a god to recognize another god. So when he told me you can come to my show, but you can't come to see Phoebe
[Philo] and you can't come to see Riccardo Tisci, that was odd. He tried to control me! He tried to tell me where I could go!"
Is Kanye West currently boycotting Louis Vuitton? Of course! Just ask his bimbo baby momma Kim Kardashian.