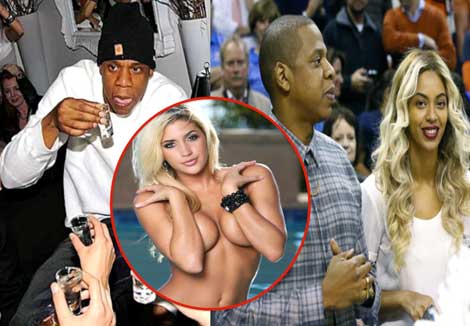 HSK Exclusive – Jay Z may have had Bey by his side when he shook hands with an OKC fan who nailed a half-court shot, Thursday — but sources tell us Jigga wasn't mentally there. Know why? According to our tipster, Jay Z had Belgium damage control on his mind.
We're told immediately after Jay Z's camp got word the UK-publication, The Mirror, was set to run the story of his creepin' with a 27-year-old beauty queen on Friday, Mr. Carter had Mrs. Carter fly in from NYC — the day after he left NYC without her — to meet him in Oklahoma, for an "impromptu photo-op."
"Jay and Bey are at odds over his lifestyle. Beyoncé hates that Jay goes clubbing so often and thinks he uses touring as an excuse to go out practically every night."
As planned, The Mirror followed through with their Friday publication, exposing Jay Z as creepin' with Claudia Scheelen. Now, an insider exclusively tells HSK Jigga's Belgium bombshell has since accepted hush hush money from Jay Z and his cover-up camp — to keep the rest of her rendezvous with the rapper on the QT.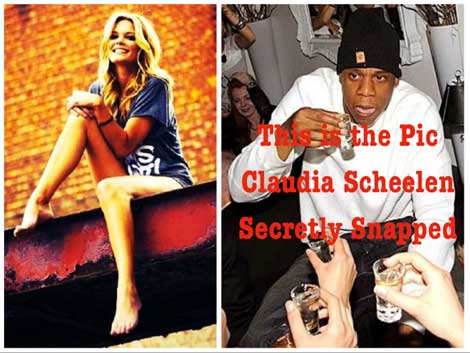 Here's what The Mirror reported:
"The rapper spent more than $8,000 on champagne while partying with gorgeous model Claudia Scheelen in Antwerp's Magic nightclub last month.

Jay Z's security tried to ban VIP guests from taking pictures – but Claudia discreetly snapped the 43-year-old relaxing with a glass of expensive bubbly after his gig at the Sportpaleis arena."
Here's what Claudia Scheelen told The Mirror:
"I was with my girlfriends and he sent over a drink to us – he had this huge bottle of Ace of Spades champagne, it must have been six or ten litres. He told me 'I've been all over the entire world, but the girls in Antwerp are the prettiest girls.' He didn't't mention Beyoncé or Blue once."
Here's what Beyonce previously said of her marriage:
"People just think, 'Oh how glamorous, two celebrities are together.' No, first of all, a relationship takes a lot of work, but you have to work on yourself – you have to make yourself happy."
Is Jay Z cheating on Beyonce old news, with just a new character in the mix? Of course … Just ask RiRi.