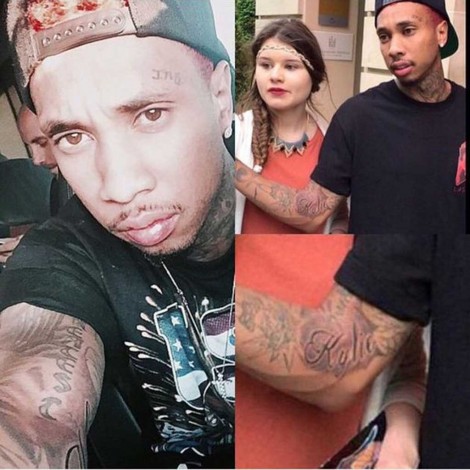 The K Factor…
Ya'll didn't believe us back in October 2014, when we told you about Kris Jenner giving Tyga (then 24) the OK to smash a teenage Kylie (then 17)!
Now, recent reports reveal T-Raw got tatted-up over the weekend, but we're not talkin' about just any tatt! Tyga got Kylie's name inked onto his inner right arm! So … Do you believe us now???
You may recall Mr. Rack City previously denied bailing on the mother of his two-year-old son, Blac Chyna. This latest info puttin' Tyga's tat on blast … doesn't only prove him a pedo, it sends a message telling Kylie and Kris Jenner that he's squashed ties with Blac Chyna!
"Tyga is desperately trying to get back with Blac Chyna. She used her Twitter to prove it! So Kris Jenner served Tyga an ultimatum forcing him to shame Chyna, or else … "
Check the word being spilled by an inside source:
"Kris got sh*t on Tyga and when she pressured him to squash the Blac Chyna rumors, he had to. That's why he straight dissed Chyna on twitter and got branded with Kylie's name. Pretty soon they'll have T-Raw turning into the next Bruce, talking 'bout he's a woman!"