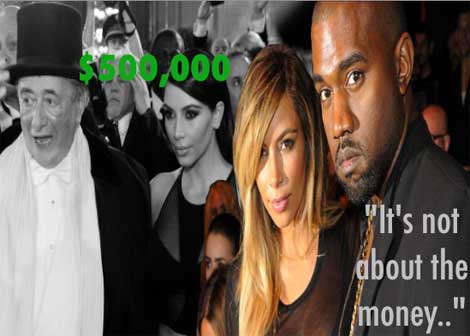 Press Move -OR- Pimp Play? You decide…
Kanye may claim to be angry after Kim Kardashian fulfilled an escort request by one billionaire tycoon in Vienna — but while Kimmy was on the clock, working for half-a-mill, Ye was all up in his Parisian fashion element. Don't believe me.. Just ask Riccardo Tisci.
Sources now say Yeesus has a big problem with Kimmy Kakes "doing paid appearances."
"It's not about the money. Kanye told her no more paid appearances.. it was selling her soul and not worth it."
Here's what the source told ROL about where Kris Jenner stands on the issue:
"She is always telling Kim that opportunities to make such big money isn't always going to be there… her motto is, you have to strike while the iron is hot. So for the meantime, Kris doesn't have any plans to cancel any of Kim's upcoming appearances. In fact, she is still booking Kim! Kim is stuck in the middle."
We don't think it's coincidental that Kimye just released the date and place of their upcoming May 24th wedding in Paris, Do you?