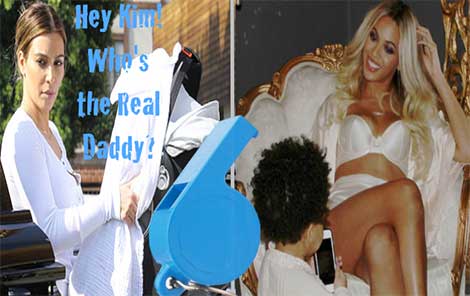 "She brags that Nori is cuter than Blue Ivy"
Kimye and Bey Carter have both been put on blast by a set of former nannies to their baby daughters. The unnamed women are calling Kim out as a control freak, who "loves" to bash on all Blue errything — and Bey as a mom who's likely never changed a diaper!
"Kim Kardashian and Beyonce's dislike for each other gets even uglier behind closed doors."
Dig the drop on Kim K:
"Kim demands her daughter only be dresses neutral colors. She also gives orders for her posse to walk behind her, and instructs her employees on how she wants them to behave in public.

She enjoys taking digs at Blue Ivy. She loves it… brags that Nori is cuter than Blue."
Peep what was said about Bey:
"She doesn't have to do any of the dirty work and can just be loving and doting. She's a good mommy, but it seems easy when you have six nannies!"
Should Kanye take a paternity test? I think so. Know why? Because Nori looks NOTHING like Kanye, let alone appears to be fathered by a full blooded Black man. Just ask Kris Humphries.