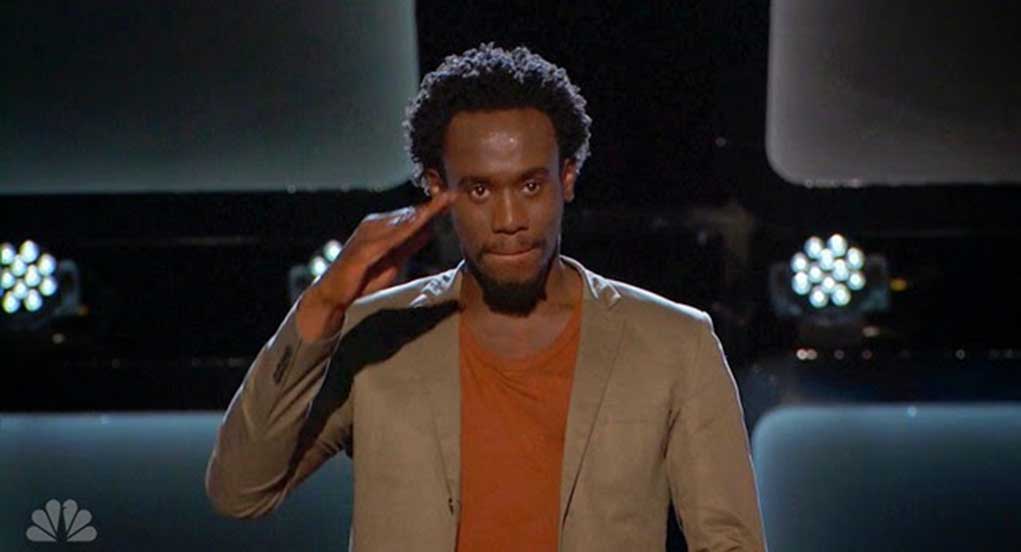 Anthony Riley, a former contestant on The Voice, has died at 28-years-old. The talented Philadelphia street performer was found in the basement of his apartment after he took his own life Friday.
Riley was a season 8 fan favorite from the moment he stepped onto the stage for his Voice Blind Audition. He earned the fastest four-chair turn-around in the show's history, as all the coaches battled to have him on their team. Anthony chose to go with coach Pharrell Williams. However, the frontrunner left the competition abruptly in March, with his coach saying only that he withdrew for "personal reasons."
As previously reported by the Inquisitr, Riley was quiet immediately following his departure, but as rumors surfaced as to the reason he walked away, he decided to come forward. He opened up to the Philadelphia Inquirer about his long-time struggle with substance abuse. He also said he went public with his battle in hopes of inspiring others to overcome their challenges and pursue their dreams no matter what.
"One of the reasons I'm proud of being of a Philadelphian is that we all have our own struggle, no matter what you do, no matter how far down you go, you can always make a comeback. I just hope someone hears this message. It's not worth pursuing anything other than your dreams."
Anthony said the loneliness and long hours during the competition were difficult for him. When he realized it may be more than he could handle, he reached out to The Voice producers for help. Riley then returned home and completed a rehab program. He was working on an album and writing new music, which he said back in March, would be fueled by his experience.
Friend and fellow musician, Robby Parsons, said Riley had a kind heart and wanted to make others happy, but never found happiness for himself.
"He'd had his problems recently. But at the heart of all that was a very kind, gentle person. He smiled and he meant it."
Sawyer Fredricks, fellow Voice contestant and Team Pharrell member, expressed his sorrow on his Facebook page today.
"This is incredibly sad. Anthony was one of the greatest singers and entertainers I've ever known personally. My mom and I want to send love and condolences to his family. Such a very sad loss."
Riley's older sister, Halima Miley, told the Inquirer how much he was adored by the community. Anthony's father encouraged him to pursue music after the loss his mother when he was just 19-years-old. Miley said the city also became part of the Philadelphia Magazine Street Performer of the Year's "family."
"The city was his family. Everybody knew him, he couldn't walk two steps without someone saying, 'Anthony, how you doin'?' The public loved him."
On his site, Anthony said performing was his way of spreading "love and positivity."
"It's just in my heart, to always, always, always spread a message of love and positivity…and what better way to do it than to perform?"
via theinquisitr.com