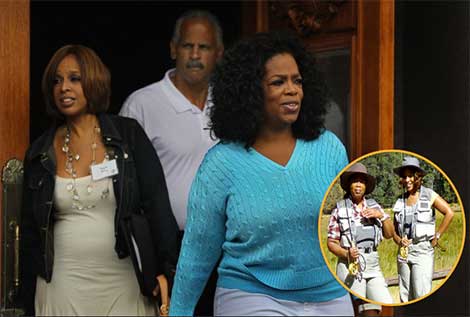 11-Days In The Life Of Gayle King..
Move over Charlie Sheen, you ain't got nothin' on Oprah's trick'in! Don't believe me.. Just ask Ms. OWN's recently evicted stepmom, Barbara Winfrey. Sure, Barbie may have come late with her own way of exposing Oprah and Gayle as LONGTIME lovers. And.. she's even failed to surprise us with Stedman's true role of cover-up KING.
But one thing's for sure, Barbie's let the trick out of the bag — telling of how she spent more than 30-mill tickets on Gayle in less than two-weeks! That trumps Charlie Sheen's small change squandered on his Hollywood harlots!
"I can only say what I saw and observed over the years. Gayle was more present than Stedman."
Here's what Oprah's evicted stepmom explains:
"Once Oprah took us on a Mediterranean cruise. That was an amazing thing she did. She rented a $30million yacht and went on an 11-day cruise. She's very flamboyant. We had meals three times a day, three courses, different plate settings, different cutlery, glassware, different everything three times a day but she never talked to me and Vernon. She didn't spend any time with us. It was always her, Stedman and Gayle. The three of them. Anytime you looked up they were together. To me it was just bizarre."