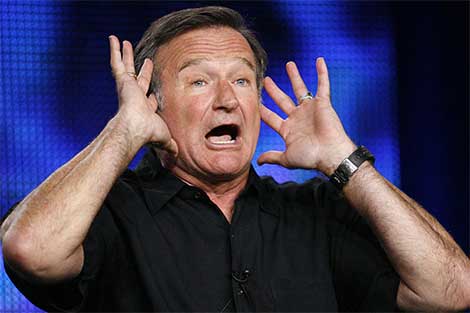 Oscar-winning actor and comedian Robin Williams was found dead on Monday from an apparent suicide at his home in Northern California, Marin County Sheriff's Office said. He was 63.
The sheriff's coroner's division said it suspects the death was a suicide due to asphyxia, but the cause of death is still under investigation.
"This morning, I lost my husband and my best friend, while the world lost one of its most beloved artists and beautiful human beings. I am utterly heartbroken," Williams's wife Susan Schneider said in a statement.
Williams identified with the wildest and angriest of performers: Jonathan Winters, Lenny Bruce, Richard Pryor, George Carlin. Their acts were not warm and lovable. They were just being themselves. Williams was that to survive them.
Williams, who won an Academy Award for his role as a fatherly therapist in 1997's "Good Will Hunting," had been suffering from severe depression recently, his publicist Mara Buxbaum said.
Williams, who introduced his frenetic style on late 1970s TV series "Mork & Mindy" and had struggled with addiction in the past, had entered a Minnesota rehabilitation center last month to help him maintain sobriety.
His representatives at the time said Williams was not using drugs or alcohol but had gone to the center to "fine-tune and focus" his sobriety after working a longer-than-usual schedule.
The Marin County Sheriff's office said it received an emergency call about noon local time on Monday, saying that Williams was unconscious and not breathing at his home near Tiburon, north of San Francisco.
Born in Chicago in 1951, Williams would remember himself as a shy kid who got some early laughs at home by mimicking his grandmother. He joined the drama club in high school and studied acting at Juilliard, where he had several classes in which he and Christopher Reeve were the only students and John Houseman was the teacher.