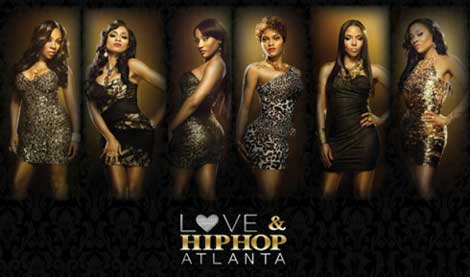 You'll Only Learn It All Here @ HSK…
The woman responsible for coming between Stevie J and the mother of his child is being outed as a former prostitute. This news comes just hours after viewers were introduced to the new Atlanta cast of 'Love & Hip Hop'. According to insiders, Joseline Hernandez is infamously known across Miami as a hooker –  a hooker we're told authorities know all too well, under her alias Shenellica Bettencourt. Her reported street games may be the tools Joseline is using, not only to amuse herself, but to play Stevie J and Mimi like a chess board.
Check it:
"Joseline is running around saying she had sex with Mimi. I heard Mimi once passed out at Joseline's house, only to wake up with Joseline's face between her legs. This bitch Joseline is bipolar, not only did she have an abortion for Stevie J. (in front of the cameras, viewers will later see), she was also one of the strippers that was involved in the Adam 'Pacman' Jones scandal in Las Vegas back in 2007."
But it seems Stevie J has a heap of dirt that may match, if not beat, the raunchy past of the fast-woman he's cheating with. Sources exclusively tell HSK not only is the reported broke music producer fronting a facade luxury lifestyle for the cameras, but may have an undercover drinking problem he's keeping on the down low. HSK has learned viewers will become hip to Stevie J's bottle-behavior as future Love & Hip Hop episodes air – just like they're learn how his relationship with Joseline could turn out to be a toxic one for him.
Here's some ice-cold southern tea surrounding the Love & Hip Hop Atlanta's #1 scandalous cast member:
"Stevie acts like he got bread but the Nicca is broke his studio is on Auburn Ave, that's in the hood. Stevie was drunk, when he called Scrappy's baby momma Erica a bitch. He didn't  expect any repercussions. He tried to apologize to Erica when we all were at the studio, but his girl Joseline interrupted his apology and said 'Stevie f*cked Erica.' That's when Scrappy's manager Kevin kicked his ass, Kevin put his Timberland boots to Stevie's head and Benzo (who's Stevie's boy) just stood there and watched.

Stevie J. don't even own a car – it's Benzo's car he's using to floss with on the show. Jacky, I know the dude who owns the actual house Stevie J was fronting on television, claiming he bought Mimi."
Wait…there's more! Insiders tell HSK some other shocking Stevie J allegations involving Whoopi Goldburg's daughter, rapper Eve and gay activity (with Jodeci members and Missy Elliot) he may be at the center of!
Here's the drop:
"Stevie J is a nut…he was the guy who released Eve's sex tape, because she dumped him. Stevie J has so many kids, and he refuses to support them. He was once was engaged to Whoopi's daughter Alex, using her for money after falling off as a producer. That's why Alex left his ass before getting back with her then ex-boyfriend to get married.

Back in the day, there were gay rumors surrounding Stevie J's name pointing to him as once f*cking with Jodeci and Missy Elliot."
On to another Love & Hip Hop Atlanta cast member….As for the one of the aspiring female artists, well let's just say our sources tell us her spiel, blaming her abusive ex for taking her $2M Jive Records budget – what we found out, doesn't exactly match her story. Check it:
"K. Michelle and NFL player Frank Walker relationship's on the show is completely fake, the show is scripted, but K. Michelle is always crying about Tonya Carter's soon to be husband Memphitz beating her up and ripping her off for her Jive Records budget."
So, what about the other female artist fighting for the spotlight at 40-years-old? Here's the drop on her:
"Karlie Redd was chased out of L.A. by the Africans. Karlie tried beating the Africans on their money, while she was working as their mule. Now she's in Atlanta using L.A. Reid's son to come up."
And, we can't forget the woman who's filling the seat of Mamma Jones:
"Lil Scrappy's mother 'Momma Dee' is bisexual, she likes younger girls."