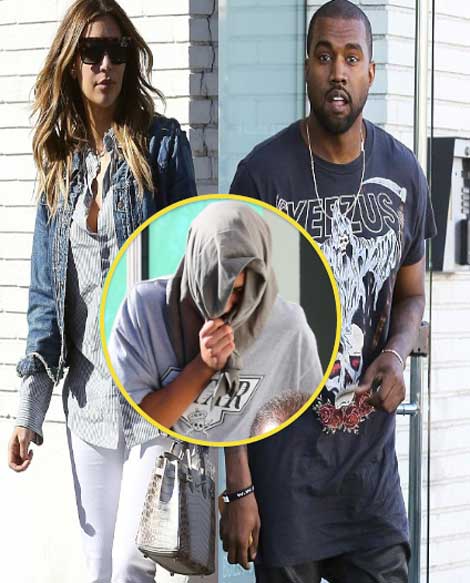 "She dialed Kanye on his cell, and when the male realized Kanye was on the phone he allegedly said, 'F**k you N****r.' Kanye — who had just arrived at the building — then met up with Kim."
You can take Kanye out the Chi, but you can't take Chiraq outta Kanye's 'Libyan Negro' Azz. That's because Kimmy Fake Cakes egged Yeezy's steroid-fuelled 'Gorilla Pimp' mode on — allegedly leading Mr. 'Black Skinhead' to "chase down a teenager who shouted racial abuse" at his bearded-bride. Can you believe these two are parents?
"He had to be pulled away from the teen after bursting into the reception area and throwing a punch."
It all went down at a 90210 chiropractor therapist center. That's where it took none other than an 18-year-old Beverly Hills brat — who slung out some N-names — to get Ye started. Now, because Kim failed to simply report the taunting teen's antics … Kanye's caught yet another case.
"West is currently facing charges stemming from an incident last July involving paparazzi at LAX."
Here's what's being reported:
"The 18 year old male allegedly tried to help Kim get in the building, as he started screaming, 'F**k these fa**ot-ass n****rs' — referring to the paparazzi. Kim then told him it was not appropriate to use the N-word. He then screamed at her, 'F**k you bitch. Just trying to help you. Shut up n****r lover, stupid slut.' Kanye and Kim rushed into the waiting room of chiropractors office and found the 18-year-old sitting there. Kanye punched the teen and Kim screamed, 'We have it all on tape.'"