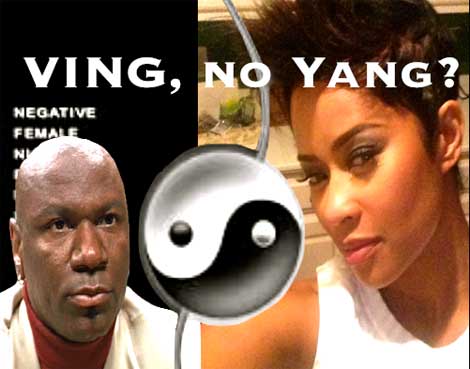 HSK Exclusive – She calls herself Lisa Wu — but 'Pinocchio' seems to be the best fitted alias for the former RHOA! Don't believe me.. Just ask Ving Rhames.
That's because our tipster says … though the actor once 'sponsored' Ms. Wu, her pattern of pathological lies led dude to kick her tale-tellin' azz to the curb!
Check out what our whistle blower is spilling:
"Ving was Lisa's secret sponsor. He finally ended their relationship because she couldn't be trusted."
Government docs reveal Lisa Wu's real name to be Sharon Millette. We're talking about a woman previously exposed to land her 'Missus Hartwell' football-wife title by fronting a 'business woman' image to the then-NFL linebacker.
Here's what's reported:
"Lisa portrayed herself as a successful career woman with several budding businesses; a real estate firm called Hartwell and Associates, a jewelry line called Wu Girls, a T-shirt line called Hart 2 Hart Clothing, a women's clothing line called Closet Freaks, and a baby clothing line called Hart 2 Hart Baby. Needless to say, none of those businesses exist today."
Insiders say that's why no one should take Wu's word as bond. Just ask Teddy Riley, who Wu still denies she dated!