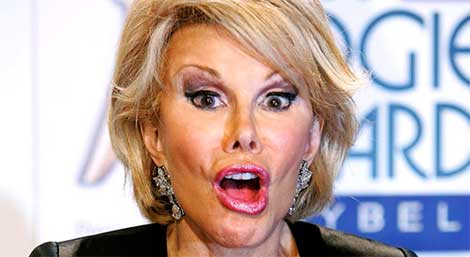 The doctor who allegedly caused Joan Rivers's death by performing a biopsy on her vocal cords took a selfie with the comedienne while she was under anesthesia, according to reports.
The comedian died earlier this month aged 81 after spending a week in a medically-induced coma following a heart attack during throat surgery.
It has since been reported that her personal doctor performed an allegedly unauthorised procedure on her vocal cords during a scheduled endoscopy that was intended to diagnose the cause of her well-known raspy voice.
According to an unnamed source quoted by CNN, investigators believe the biopsy caused an inflammation of her vocal cords leading to cardiac arrest.
The doctor, who is reported to have operated after a second physician – Dr Lawrence Cohen – completed the endoscopy, is described by the source as Rivers' personal ear-nose-throat physician.
Yorkville Endoscopy Clinic, the New York facility where the surgery took place, has denied reports that any vocal cord biopsy was performed on Rivers, but said Dr Cohen "is not currently performing procedures".
CNN reported that neither Cohen nor the unidentified ear, nose and throat doctor have been accused of wrongdoing by investigators.
However, a staff member at the clinic told investigators that the unidentified doctor took a selfie photo in the procedure room with Rivers before starting the operation, the source added.
The actress's death was announced on September 4, a week after being rushed from the clinic to a second hospital where she had remained in intensive care, by her daughter, Melissa.
"My mother's greatest joy in life was to make people laugh," she said. "Although that is difficult to do right now, I know her final wish would be that we return to laughing soon.
"She passed peacefully at 1.17pm surrounded by family and close friends. My son and I would like to thank the doctors, nurses, and staff of Mount Sinai Hospital for the amazing care they provided for my mother.
Cooper and I have found ourselves humbled by the outpouring of love, support, and prayers we have received from around the world. They have been heard and appreciated."
via CNN