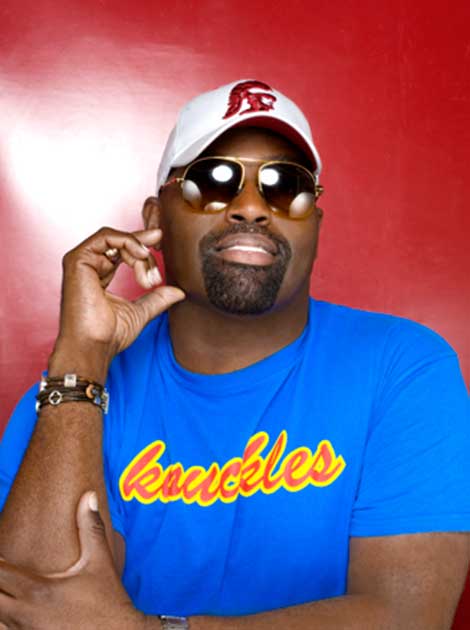 "Well technology has changed a lot of things, making it possible for just about anyone to make music. But not everybody is a songwriter, so that puts me in a completely different ballpark than the other DJs out here that are writing and producing tracks. I don't stop at tracks, I try to complete the whole package with the song. So working at that level has put me in a completely different place." ~Frankie Knuckles
The man revered at 'The Godfather Of House Music' has died. Frankie Knuckles — real name, Francis Nicholls, — "died unexpectedly at his home", yesterday (March 31, 2014). He was 59-year-old.
According to the Chicago Tribune,The Grammy-winning DJ's cause of death was the result of complications related to Type II Diabetes. Frankie Knuckles, who came up in the Boogie Down Bronx, is said to have "developed the disease during the mid-2000s."
As one of the leading figures in dance music, having worked with Michael Jackson, Luther Vandross, Diana Ross, Eternal and Toni Braxton, many have shared their sadness at Knuckles' passing.

Rolling Stone Magazine reports:
"Nobody can agree on who invented the blues or birthed rock & roll, but there is no question that house music came from Frankie Knuckles, who died Monday afternoon of as-yet-undisclosed causes at age 59. One of the Eighties and Nineties' most prolific house music producers and remixers, Knuckles is, hands down, one of the dozen most important DJs of all time. At his Chicago clubs the Warehouse (1977-82) and Power Plant (1983-85), Knuckles' marathon sets, typically featuring his own extended edits of a wide selection of tracks from disco to post-punk, R&B to synth-heavy Eurodisco, laid the groundwork for electronic dance music culture—all of it.

Knuckles made an abundant number of dance classics, including early Jamie Principle collaborations "Your Love"(1986) and "Baby Wants to Ride"(1987); "Tears"(1989), with Satoshi Tomiiee and Robert Owens; "The Whistle Song"(1991); and his remixes of Chaka Khan's "Ain't Nobody"(1989), Sounds of Blackness's "The Pressure" (1992), and Hercules and Love Affair's "Blind" (2008)."