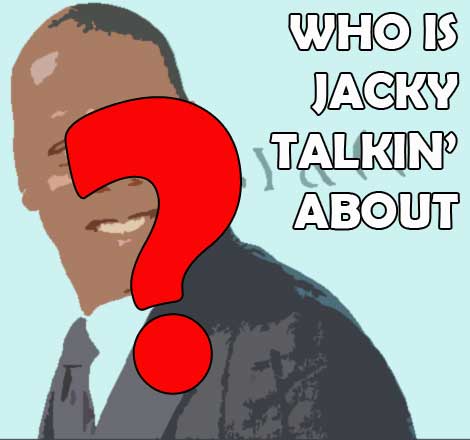 *HINT: He Doesn't Care About Black People*
He keeps close ties with true thugs for street cred and relevancy in Hip Hop … Just ask Emory. Even his ex-partner in biz — who he doubled-crossed — would tell you our blind item has no love for anybody more than himself … and, of course, the almighty dollar. Can someone say Dame?
But his money can't buy our mystery man everything in his extremely secretive life. That's because he'd have you believe he and his Mrs. are a happy couple, which is far from the truth. Don't believe me.. Just ask his wife's alcoholic cousin, Angela.
Plus, domestic drama is something he's no stranger to … Just ask his disgruntled pop star mistress, who sources say "got warned to stop making late-night drunken phone calls to his Mrs … or she'd end up like the last one." That could be why he gifted the "Somethin' More" singer a jeep Wrangler, reportedly on the night his surrogate delivered his baby.
Some say this rapper-turned-two times a sell-out MASCOT could have been instilled with his fetish for being a voyeur — watching his wifey with other women — from a young age, being that he was raised by an open Lesbian mother. Just ask Dania Diaz. But that appears to not be his only fetish … Just ask Beanie Sigel, who's said to have been reported to the IRS … right after he threatened our blind item with spilling dude's choice in Trans tea to his wifey.
He shot down his UNinvite to one Shop-and-Frisk racist retail store's holiday party, pulling through "all smiles" with his pop star wife anyway. Know why? Because this Silly House Negro's fashion collection — boasting Brooklyn baseball hats going for $875.00, and leather boxing shorts going for $2,600.00 — launched that very day.
Now, can you guess who I'm talking about?