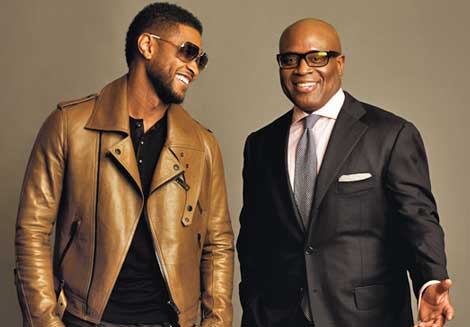 HSK Exclusive – Word from the streets of Atlanta…
It seems that Usher Raymond gets around, and that old saying 'six degrees of separation' more than applies to L.A. Reid and Sean 'Puffy' Combs. That's because sources say Usher has served as a boy toy to both men. More specifically, Sean "Puffy" Combs has collected his fellow music mogul's leftovers. Don't believe me.. Ask Jermaine Dupri.
Here's some cold ice tea from an industry insider for your Wednesday afternoon:
"Usher Raymond has carved out quite an impressive recording career, selling over a hundred million albums worldwide – but that ain't the reason he will never be broke. Usher will never be broke cause he knows too many industry secrets. The kind of secrets that will do one of two things : make yo' ass dead, or make you rich beyond your wildest dreams.

Usher has so much dirt on L.A. Reid it ain't even funny. Reid used to talk on the phone around Usher, meet young boys from around ATL with Usher, kick it wit' his homie/lover/friend/partner Babyface around Usher and trick off while wearing lip gloss around Usher.

He wined and dined him under the guise of Usher being his golden goose. LA was courtin' that young dude. He bought Usher his first sports car. A Porsche, I believe. Shit, he damned near gave that little nigga his mansion for free. He wasn't a good role model.

Then here comes Puffy to act as mentor. Puff set him up with orgies and strippers, but really just wanted to see that young dude naked and banging groupies. Diddy hooked him up with three ways so he could get him used to being in bed with him.

You know what came next – 'Aw she couldn't make it this time. Aw, old girl running a little late.' And don't even get me started on Jermaine Dupri's little freaky ass. Some niggas had a crack habit. JD had a ass crack habit. That nigga had strippers delivered like Jimmy John's – freaky fast. It was only a matter of time before he was broke.

Usher also got the trump card of all trump cards, he knows the real deal on that Shakir Stewart situation."
Why wasn't this apart of Usher's VH1 Behind The Music special? I guess, it was too raunchy for television. Don't you agree?