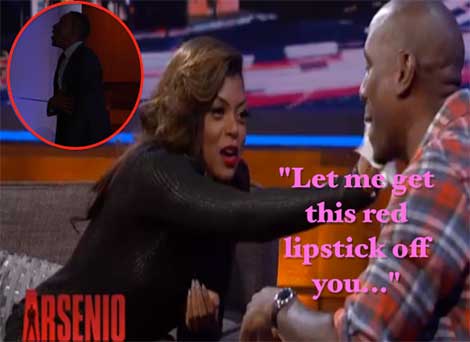 It appears Tyrese Gibson has suffered payback for pulling a no-show on Arsenio! Just ask Taraji P. Henson, who cosigned Tyrese as an undercover brother, last night. During the Arsenio Hall Show segment, Taraji also called dude out for crying — literally — moments before shooting the "Baby Boy" sex scene she acted in with him.
Check out what she spilled:
"The moment that stands out for me was when I had to take my clothes off.. John Singleton in 'Baby Boy'.. pretending like I was, you know, being a grown up.. doing things in the bedroom. We had just met on that film…I read the script so it wasn't a surprise. I knew what I had to do, but it doesn't mean that I wasn't nervous. I dealt with my nerves the night before…Tyrese did not however. He was in a robe basically cryin, 'Ahhh! I Don't want to do this!' And i'm in a robe. I'm like, 'Tyrese, okay babe, we have to get through this scene. Now I know you like to strip.."
Taraji was cut off right there when Tyrese showed up to surprise her. We're thinking Baby Boy had no idea that her convo with Arsenio would have revolved around his Baby Boy meltdown. Don't you agree?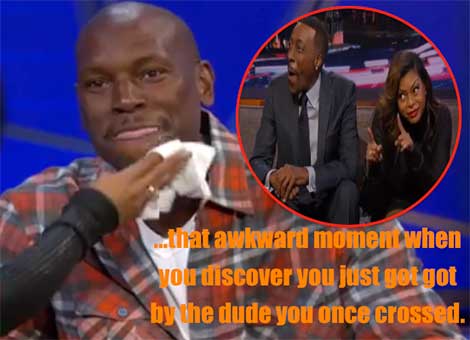 Ty attempted to defend himself, but check how Taraji broke Ty down — to the last molecule:
TG: "First of all.. I don't appreciate you lying to these people, you talkin' about I'm in the corner crying!

TH: "Yes you were."

TG: "I'm a grown azz man, what I look like cryin' in the corner? I'm not having it."

TH: "So you were not afraid to take your clothes off in that scene?"

TG: "Ain't nobody afraid to take they clothes off."

TH: "Take 'em off then.. Take 'em off!"

TG: "Hold on man.. this TV.. this TV."

TH: "Let me get this red lipstick off you."

TG: "So hold on.. I don't think it's a secret that Baby Boy.. even though she had been acting way more than I was prior to my first role.. I didn't know what the definition of method acting was… so Taraji would define that for me on the set."

TH: "I was like, 'No Tyrese, it doesn't mean we really have to have intercourse.. it's called acting… keep your bottoms on… we're shooting from the waste up."

TG: "That's not true! We was in the trailer going over the scene.. Taraji came at me in the trailer…"

TH: "I don't remember this.. Michelia is here, she knows this is not true!"

TG: "…got her back forever. I know about the rules.. I know about the rules."
http://youtu.be/nLlWF8mb1AA