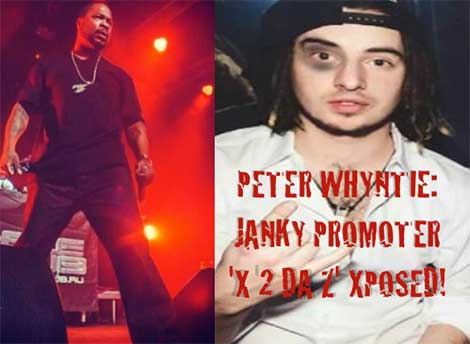 HSK Exclusive – A string of LIES are being spun on Xzibit, as that video-gone-viral continues to spread. Various news outlets and online sites are reporting transportation issues as what led Xzibit to set it off — which couldn't be further from the truth!
That story — which has also gone viral — is turning out to be nothing more than one conman's attempt to cover-up his own plot to pocket Xzibit's paper.. rumored to be in the area of $6,000 USD. We're talking about Patrick 'Mastercraft' Whyntie, the Janky Promoter who X straight checked after seeing the scam for what is was. Don't believe me.. Ask DJ Victor Lopez.
"The promoter for Xzibit's show in the Adelaide UniBar on Wednesday night, Patrick 'Mastercraft' Whyntie, is no stranger to controversy — having been the promoter behind the failed Hip Hop festival 'Heatwave' 2 years earlier." ~The Australian
After taking several listens to audio of the April 23rd altercation, we can confirm Patrick Whyntie shutdown soundcheck after he "walked off the stage" before saying "No one gets paid..No one gets paid." That's the real reason why X became enraged and lashed out at Whyntie, backstage at a venue in Australia… a destination that's well over 7,000 miles away from L.A.!
Here's some of what was said after Xzibit caught on to Whyntie's exposed bait-and-switch plot:
W: "I'm a professional man.."

X: "Oh yeah? You're professional?

DJ: "What the f*ck? God, it's obvious when I get pulled from the venue.. and yeah.. and you slapped us in the face when I was leaving out the back in the fan.

W": "I didn't do that …there's only two of us doing the show.. No one gets paid. No one gets paid. I walked off the stage."

DJ: "He's a f*ckin promoter!"

X: "Are you a promoter or are you a rapper? Why the f*ck did we walk off from soundcheck? Why the f*ck we walk back from soundcheck? Why the f*ck we walk back from sound check?"

W: "Why don't we just do this shit, get finished, you'll get your money.."

X: "Fuck you you b*tch azz n*gga.. don't you ever pick up the phone…"

W: "This needs to be resolved.. everyone needs to be paid…everyone needs to be paid."

X: "F*ck you.."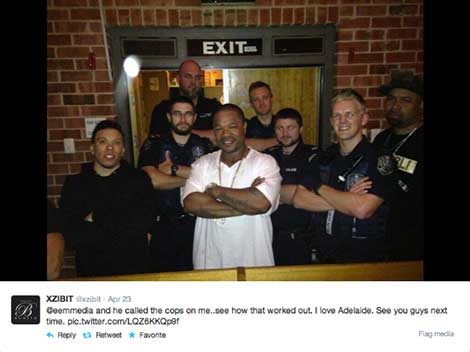 Here's Whytnie's flip-flopp'in statement he posted to Facebook:
"People forget Xzibit was one of my idols I spent my life savings to bring him down to Heatwave 1, had best friends invest and we treated him like royalty. Stretch Limos, fat pay cheque, unlimited booze you name it. What do you think we did this time? Moments before he flipped out I had just had my guys running around to make sure every last need was taken care of! … We damn near sold a show out on a Wednesday night in Adelaide. SO WHY on earth would any of the team Xpect you or deserve you to talk to us like s***, throw a tantrum and piss on everything we did for you!"