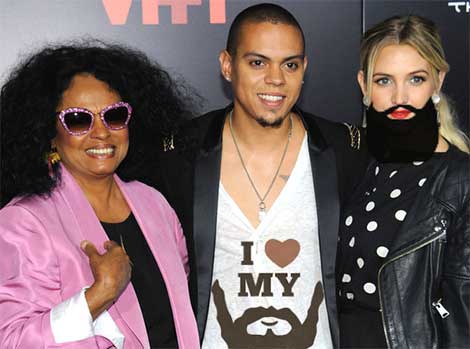 Ashlee Simpson is set to get Diana Ross' blessing to walk down the isle as Evan Ross' bearded-bride! And that's not the only Ross who'll be adding to the Studio 54-style affair! Sources say… Stevie Wonder and Smokey Robinson are expected to attend the wedding.
"Diana Ross is very hands-on about planning Ashlee Simpson and Evan Ross' upcoming wedding."
You'll recall… back in November 2013, HSK exclusively uncovered Evan was caught on camera exiting West Hollywood's gay bar "The Abby". Now… less than seven-months later Evan apparently can't wait to seal his cover-up queen. Just ask Rhonda Ross Kendrick.
Here's what Evan Ross had to say about it:
"Honestly, we could go and get married right now, wherever. We just want to be married. We're in love. This is the most incredible time I could ever think of in my life and I'm young, but the same time, I've lived a different life than most and I can't think of a happier moment.

I was giving it time only because I wanted to give it time, but I would have asked her a month after I was with her."