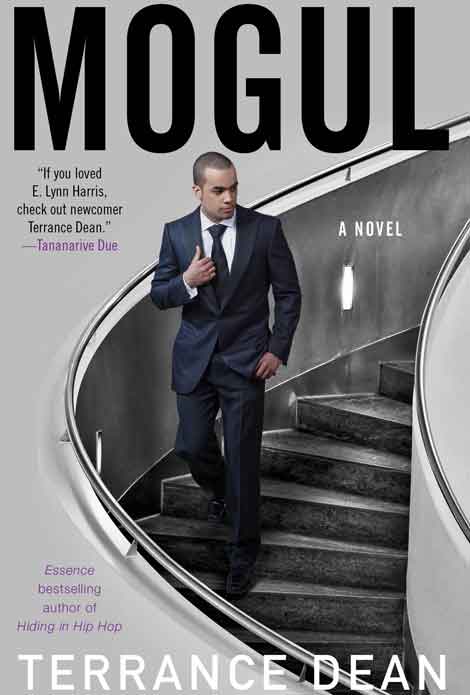 "I ain't saying all of them f*cked or sucked some dick to get to the top, but a lot of them have and continue to do so. Trust me, there is always some new young fresh wide-opened rough neck thug who is willing to do whatever it takes to get a record deal, a movie role, or some press. Some even think they are smarter than the next and they will get by without having to deal with a gay brother. Like I said, we are everywhere and in all aspects of this industry. Nine times out of ten, we know each other. It only takes a phone call and we can bring you down or help keep you where you are." ~ Pop, Mogul
EXCLUSIVE – There's a new book set to hit shelves which may shatter hip hop's long kept secret of what it really takes to make it to top hip hop success. Industry insider and author of Hiding in Hip Hop, Terrance Dean brings us his second book "Mogul" – a very detailed layout recounting one artist's (Big A.T.) journey as he struggles to land his dream of making it big in the music business.
HSK first became hip to the juicy read after one of our readers tipped us off to it. I managed to get an advance copy from my P.R. rep and after delving into its pages, we discovered, because Mogul's characters have fictional names, the reader is left to decide which character parallels the industry's real life players.
In this excerpt from the novel below, we have determined with precision the character of "Pop" is really Andre Harrell. Don't believe me? just ask Puffy!
Check out the deal Big A.T. is presented by Pop:
"Let me get a taste." Pop tugged at my zipper.

He unbuckled my pants and they dropped to my ankles. My dick was hard. It was fighting against the material of my boxers.

This was it. I was being made an offer. An offer to end all my years of struggling and trying to make it in this business. An opportunity for my big break. It was time for me to eat and eat big. I wanted to hear my music on the radio. And the man sitting with is face sniffing at my crotch is willing to make it happen. For the first time I heard my own voice. The words found their way out of my belly, into my throat, and out of my lips. "I don't know. I mean…I…I…I"

"Relax," Pop stroked my erection. "We will work everything out. This is between you and me? This is our world, baby." Pop smiled. He licked his lips and then spoke to my dick. "What happens here stays here."
Here's yet another shocking excerpt from Mogul, as Big A.T. learns Pop's true intentions and Pop reacts to the young artist's shock:
"I couldn't believe my ears. This top entertainment mogul was actually letting me in on the secret. He was a gay man and the industry is full of them."

"Let me tell you something we are all up in the business. Shit, without us half these ignorant celebrity motherf*ckers wouldn't be who they are today. How do you think most of them got to where they are? I hope you don't think that it is really all about talent."
Now, let's play a bit of trivia. HSK wants to test your knowledge of hip hop's underside! For the next few weeks – twice a week, HSK will exclusively provide you with two excerpts from Mogul surrounding one of its characters. It will be up to you to decide who those fictional names really are! HSK will reward the winner with a free copy of Mogul on the day of its release, June 14th. Good Luck!!!
If you don't win the challenge, don't worry! Mogul is available for pre-orders on Amazon.
About Mogul author, Terrance Dean:
"I am the founder/creator of Men's Empowerment, Inc. and co-creator of The Gathering of Men with Adeyemi Bandele. Adeyemi is the husband and spiritual partner of acclaimed teacher and best-selling author Iyanla Vanzant. Men's Empowerment is an organization that is dedicated to the transformation of men of color in their communities for their own self-empowerment. Some of the featured guest speakers have included, Emil Wilbekin, Editor-in-Chief, Giant Magazine; Kevin Powell, Author and Activist; Stacy Spikes, CEO Urbanworld Film Group; Gordon Chambers, Grammy Award Song Writer; Omar Tyree, Author; and Kevin Liles, Chairman of Warner Music Group. I am a 2005 John Seigenthaler Journalism Fellow from Vanderbilt University. I am a contributing writer to the anthologies, "Souls of My Brothers" and "Always Too Soon." I have also appeared across the country on popular syndicated radio shows and has made television appearances on NBC 10 Philadelphia, WB 11 New York, and FOX 2 in Detroit. Dean has written for VIBE, ESSENCE, The New York Sun, The Tennessean, Fatherhood Today, The Michigan Chronicle's Front Page, Flirtingtime.com and Blackmeninamerica.com."