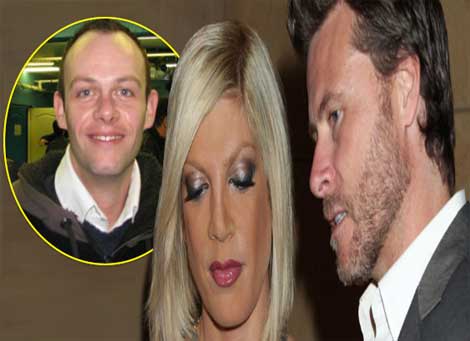 "I told him I'm going to expose him because he lied to me and he's f**king ashamed of being a bisexual man." -Chad Conley
HSK Exclusive – A Vancouver man has surfaced to give Tori Spelling's husband a hand in letting his true colors be known. His name is Chad Conley, and he's spilling some detailed information about a set of alleged gay smash sessions he says he shared with Dean McDermott!
"I really liked the sex I was having with him."
We're getting this drop less than two-weeks after reports revealed "sources found evidence that Dean … had affairs with men." According to Conley, he is one of those men! The nationally recognized Canadian figure skater says he met McDermott while on vacation in Los Angeles, back in July 2012. Conley tells us it wasn't until after he and McDermott had already hooked-up twice when he discovered the man he knew as 'Matt' was really Dean McDermott! Know why? Conley says Dean got at him, introducing himself as Matt, via the infamous Gay Sex Hookup app 'Grindr'.
"He [McDermott] said, 'I'll make a deal with you. I'm at the Ramada Inn, less than a mile from you, come see me. If you don't like what you see then you can leave."
Here's what Chad Conley exclusively tells HSK:
"He sent me a headless nude picture and that's when I decided to take my friend Brad with me to the Ramada. When I stepped into his room, he told me to turn off my phone. To make a long story short, we both got naked and had sex.

Two days later, Dean was still on my Grindr and we hooked up again in El Segundo at a real nice hotel, and we had sex again.

The next day my friend Brad and I were shopping on Hollywood Boulevard, when I saw Dean and Tori Spelling on the back of a bus. It was an ad for their reality show. I told Brad 'That's the guy I've been having sex with.'

I really liked the sex I was having with him. So when Dean called me the next day to have sex again, I told him 'Yes' — and I was on my way to his hotel room in El Segundo. After we had sex, I told him 'I know your name is not Matt.' He said, 'No one will ever believe you' we ended up having a fallout and I left."