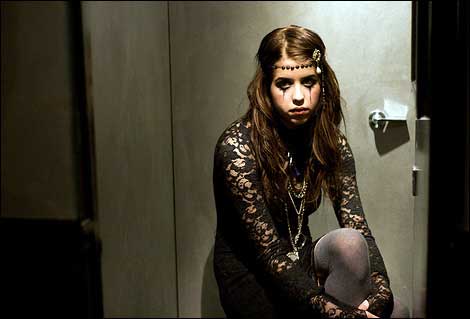 The TV presenter daughter of musician Bob Geldof and Paula Yates, Peaches Geldof, has died at age 25 in England, Bob Geldof confirmed.
"Peaches has died. We are beyond pain," her father said in a statement. "She was the wildest, funniest, cleverest, wittiest and the most bonkers of all of us. Writing 'was' destroys me afresh. What a beautiful child. How is this possible that we will not see her again? How is that bearable?"

HSK documented one of Peaches' wild drug fueled sexcapades (here) back in 2010. Sadly, this comes with little surprise. We only wait for the official caused to be released as suicide or overdose, both virtually one in the same.

Police said she was found dead at an address near Wrotham after they were called to the scene following a "report of concern for the welfare of a woman."
"At this stage, the death is being treated as an unexplained and sudden death," Kent Police told FOX411 in a statement. "Officers are working to establish the circumstances around the death."
HSK also uncovered Peaches Geldof may have held the key to the details behind the overdose of another celebrity daughter, Alia, the daughter of the late singer, Teena Marie. Alia had been on a heroin binge with Peaches and celebrity hanger-on, Phlo Finister.
Geldof began her career as a columnist for Elle magazine at the age of 15.
She went on to write for British newspapers the Telegraph and the Guardian and later presented for ITV2's "OMG! with Peaches Geldof."
She was active in the fashion world, and was a frequent attendee at fashion shows. She was photographed last week at a show in London, and was married to British band S.C.U.M's lead singer Thomas Cohen. Together they had two sons, aged 1 and 2.
"My beloved wife Peaches was adored by myself and her two sons Astala and Phaedra, and I shall bring them up with their mother in their hearts every day. We shall love her forever," Cohen said in a statement.
Geldof lost her mother Paula Yates to a drug overdose when she was just 11 years old.
"I remember the day my mother died, and it's still hard to talk about it. I just blocked it out," she told Elle in 2012. "I didn't grieve. I didn't cry at her funeral. I couldn't express anything because I was just numb to it all. I didn't start grieving for my mother properly until I was maybe 16."
She also admitted to drug use but said she was "never that wild."
"I did experiment with drugs, I did get drunk and go to parties, but I was never that wild," she told the magazine. "I could have been, I could have let myself spiral but all the time I remembered what happened to my mum."
Geldof was previously married to musician Max Drummey but the couple separated in 2009 after six months of marriage.
She is survived by her husband, sons, father and sisters Fifi Trixibelle and Pixie and half-sister Tiger Lily Hutchence Geldof.