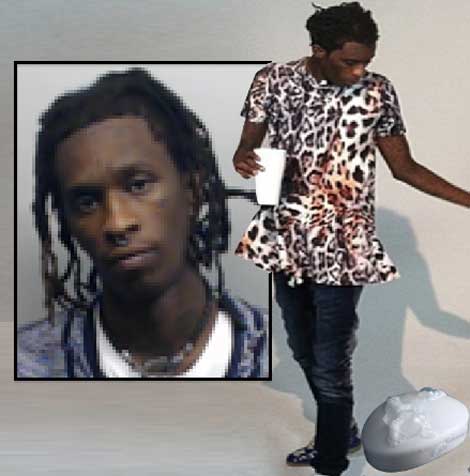 Word of Young Thug gettin' hemmed up has been confirmed. Fulton County inmate records reveal the 21-year-old rapper — whose real name is Jeffery L Williams — remains in custody, held on a tallied-up $7,000 bond.
Where's Baby?
A source close the the rapper previously leaked news of Young Thug's arrest to Complex, spilling news of ATL cops apprehending the "Stoner" at his home.
Now… the four arrest warrants listed on Young Thug's record reveal the reason why po-po paid dude a visit. Young Thug was booked on the following charges, Wednesday Feb. 26th.
• Driving In Circular Or Zig-Zag Course "Laying Drags"
• Driving Without Seat Belt
• Reckless Conduct
• Reckless Driving
• Vgcsa Possession Of A Schedule IV Controlled Substance
When Young Thug shot down word he's gay, did he blame his city's said 'gay' rep for the supposed rumor? Of course! Just ask Slim.