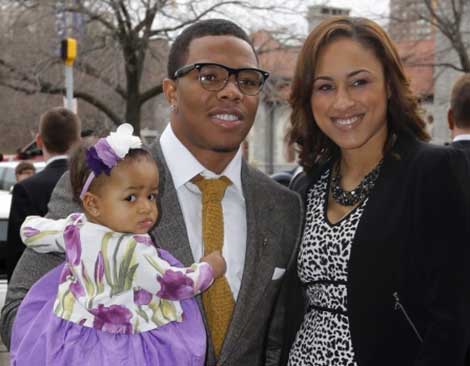 "Neither Rice or Palmer wish to move forward with the case."
Ray Rice may have just sparked a new trend of Shotgun Weddings — all to cover his azz in court. You know.. the kind of nuptials that are exchanged one day after being indicted on a third-degree aggravated assault charge, over allegedly knocking his baby momma unconscious!
Now that Ray and Janay are officially 'Man and Wife'… by law, the pro-footballer's new bride can't be forced to testify against him in court.
Baltimore Ravens running back Ray Rice and fiancée Janay Palmer reportedly were married on Friday, only one day after Rice was indicted by a grand jury for allegedly assaulting Palmer at an Atlantic City casino last month.
Rice was indicted on Thursday on one count of aggravated assault for the February incident. The charge is a third-degree felony carrying a potential penalty of three to five years in prison.
Ravens owner Steve Bisciotti told reporters earlier this week that Rice will "definitely be back" with Baltimore for the 2014 season.
Here's what Rice's lawyer, Michael Diamondstien had to say before the night wedding:
"We deny Ray Rice committed aggravated assault. Neither Ray nor (his fiancée) Janay Palmer wish to prosecute the matter.

Ray and Janay are together. They're happy, and they're in counseling.

We believe that as a matter of law that Ray Rice did not commit aggravated assault."