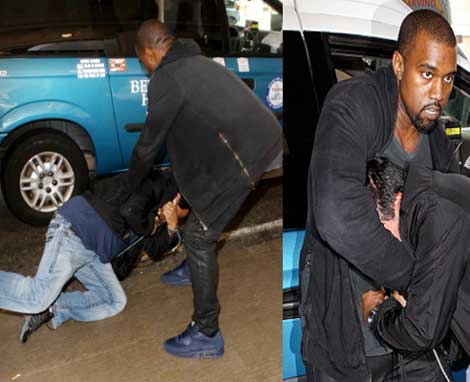 "He will also have to undergo anger management treatment and 250 hours of community service."
Kanye West has been ordered to turn himself in to be booked. This after the 'Black Skinhead' pleaded no contest, and was sentenced to 24-months probation, 240-hours of community service and ordered to complete 24 level-two anger management sessions.
It all went down yesterday (March 17, 2014). Though Ye was not in court, sources say … "the rapper submitted a special plea through his attorney in which his maintains his innocence." A hearing for restitution in the case is set for July 17.
Here's the latest:
"Paparazzo Daniel Ramos accuses West of punching him and grabbing his camera in an unprovoked attack last July at LAX.

West maintains his innocence and the plea cannot be used against him in a civil lawsuit brought against him by Ramos.
The photographer claims he still takes medication from injuries sustained from the alleged attack."
Here's what Daniel Ramos had to say:
"I was doing my job and he broke the law. If I did what he did to me, I'd be behind bars."