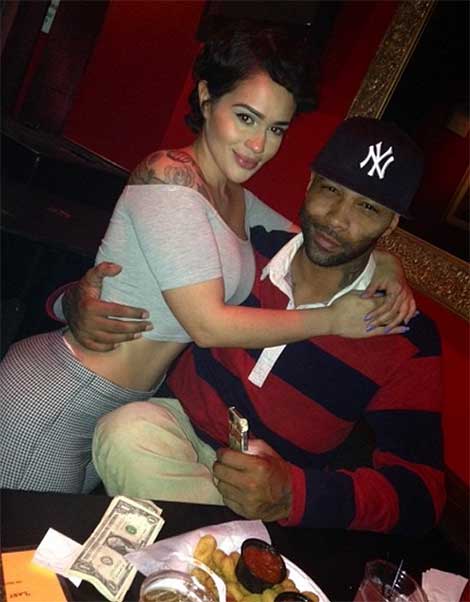 Love & Hip Hop NYC alum, Joe Budden is wanted by police after allegedly beating his ex-girlfriend outside of an Inwood nightclub—but he's still a free man boasting on Twitter about lap dances and joyrides around the city.
The "Pump It Up" singer is accused of forcing the 25-year-old woman into his car near the corner of Nagle Avenue and Dyckman Street at around 4:30 a.m. Monday before before smashing her head off the dashboard and driving to his New Jersey home, where the beating continued, police said.
Last night, Budden took to Twitter about his late night shenanigans at an Astoria Hookah lounge after a night at a Queens strip club. "So the ugly stripper has been dancing in front of me for 20 min str8 blocking my view of all the cute hoes. Smh," he tweeted.
Sources said the "Love and Hip Hop" star became enraged after he saw pictures of his ex on Instagram clubbing with other men. "Apparently there was an argument over pictures she was posting online with other guys," a law enforcement said of the argument. "She was going to nightclubs and he didn't like that."
Budden claims via Twitter that the NYPD raided his house yesterday but he apparently wasn't detained or charged.
"Cops searched my house today cuz shorty told them I had guns here.. He said "wanna tell me why u have a bullet proof vest?".. Lmao/smh"
Budden, 33, stole the woman's cell phone before twisting her arm and shoving her into his car, cops said. He is facing charges of assault and robbery, cops said.
But he claims he's innocent on Twitter:
"Also, if I did half of what's alleged, a pic of her face would be out, not her leg.. This is simple logic here."