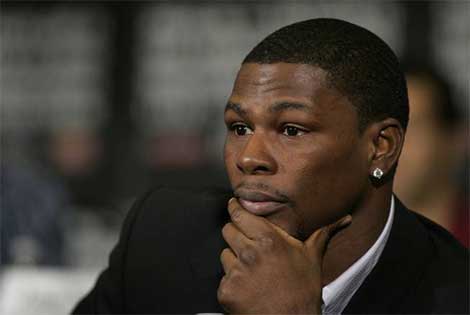 International Boxing Federation middleweight champion, Jermain Taylor, is spiraling out of control and either needs to be locked up or get psychiatric help, at once.
The 36-year old fighter was arrested on Monday, January 19, and charged with with five counts of aggravated assault, three counts of endangering the welfare of a minor, and possession of marijuana.
Taylor is accused of going nuts at a Martin Luther King Jr. Day parade in Little Rock, Arkansas after a child he let hold one of his title belts accidentally dropped it.
40-year old, Toya Smith, told The Associated Press that Taylor threatened to kill her and her three children, all under the age of 6. He then pulled out a gun and threatened to kill Smith's husband.
Here's what Toya Smith said:
"He put the gun up against his temple, I jumped in front of it and it went off up into the air. He" injured my husband's ear.
He was going to shoot him, but I saw it, he was going to kill him and I had to hit the gun."