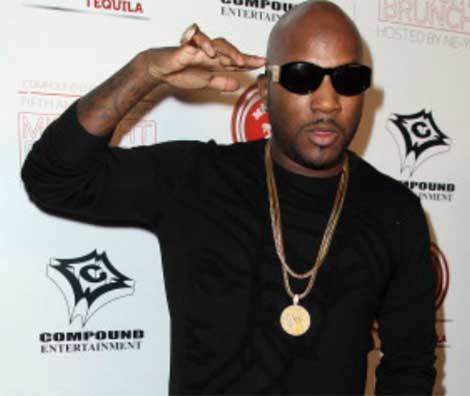 Rapper Young Jeezy, whose real name is Jay Jenkins along with five other associates who were also arrested on Sunday on weapons charges, have posted the one million dollar bail (each) and are being released from jail.
The arrest was the result of police finding an AK-47 assault riffle on Jeezy's tour bus after a warrant was issued by police who are investigating the murder of Bay Area promoter Eric "E-World" Johnson. Johnson. Johnson was shot backstage during the "Under the Influence" tour stop in Mountain View, California. Johnson died from his injuries.
HSK previously revealed that word on the streets is that Jeezy's bodyguard (who is still on the run) was the trigger man, so it's no surprise that during the next stop of the tour, police had caught up to Jeezy with warrant in hand.
Here is the latest:
"Jenkins, 36, is charged with felony possession of an assault weapon along with David Robert Kuniansky-Altman, 31, Alexa Beason, 53, Peter Arthur Maynard, 38, William Paul Gilmore, 48, and Kena Jermaine Marshall, 39, according to district attorney spokeswoman Farrah Emami.

All six entered their not guilty pleas in Superior Court in Newport Beach and their next appearance in court will be a pretrial hearing on Sept. 5, Emami said.

Jenkins will be represented by private attorney Alex Kessel and Kuniansky-Altman by lawyer Rudolph Loewenstein, while the others will have government-appointed counsels, according to Emami.

Prosecutors allege that the six defendants possessed an illegal assault weapon on a tour bus on Sunday, the day they were arrested by Irvine and Mountain View police at the Verizon Amphitheater in Irvine, Emami said.

He had performed at Shoreline Amphitheatre in Mountain View on Friday night when Eric Johnson, a 38-year-old man from Orinda, was shot to death backstage, according to Mountain View police.

Police obtained search warrants at the Irvine venue for Jenkins and the five others, Mountain View police said.

The criminal complaint also charged Maynard and Marshall with felony counts of being felons in possession of a separate firearm and for felons in possession of ammunition.

Maynard has a previous conviction for criminal conspiracy in Georgia in 2008 and Marshall has one for possessing marijuana with the intent to sell in 1995, also in Georgia, according to the district attorney's office.

Bail for each of the six defendants, who were booked into the Orange County Central Jail Complex in Santa Ana, was set at $1 million, Emami said."
Jeezy's next court date is scheduled for September 5.