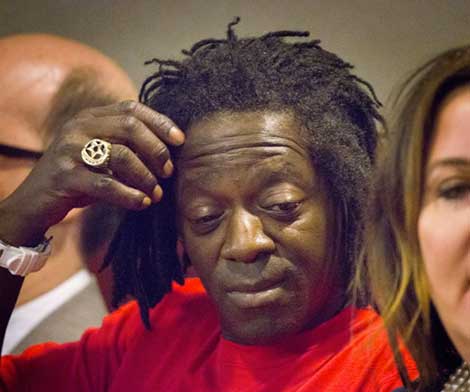 The Case Of A Knife Attack On 'Step-Son'…
Flava Flav has just saved his azz *no pun intended* from doing a bid that could have added up to 12-years in the Penn!
Flav caught the case back in 2012, after being accused of threatening his longtime girlfriend's teen son with a butcher knife. Just yesterday [April 14, 2014], in a Las Vegas courtroom, Flav accepted a plea deal that allowed him to avoid trial. "I love my son and my son loves me, too," he told the judge.
Flav's guilty plea landed him to be sentenced to probation and counselling. This, after being charged with felony assault and child endangerment with a weapon. He was sentenced to probation and counseling. Outside court, the Flav pulled his trademark clock neckwear from beneath a red T-shirt, as he and his defense attorneys said they don't expect the Las Vegas conviction to affect a pending felony speeding and driving without a license case in Mineola, N.Y.
The Associated Press reports:
"Flavor Flav pleaded guilty Monday to reduced charges and was sentenced to probation and more counseling in a Las Vegas domestic violence case involving the teenage son of his longtime girlfriend.

The 55-year-old rapper and reality TV personality, whose legal name is William Jonathan Drayton Jr., acknowledged in court that he wielded a kitchen knife during an Oct. 17, 2012, argument at home in Las Vegas.

The teen testified during a preliminary hearing a year ago that Drayton threatened to kill him, chased him to a bedroom and stabbed the knife through the door during the argument.

The family has since reconciled and has been undergoing counseling, defense attorney Kristina Wildeveld told Senior Clark County District Court Judge Kathy Hardcastle on Monday.

The teen, now 18, and his mother were not in court when Drayton entered his plea to misdemeanor charges of attempted battery that could have caused substantial injury and battery constituting domestic violence."