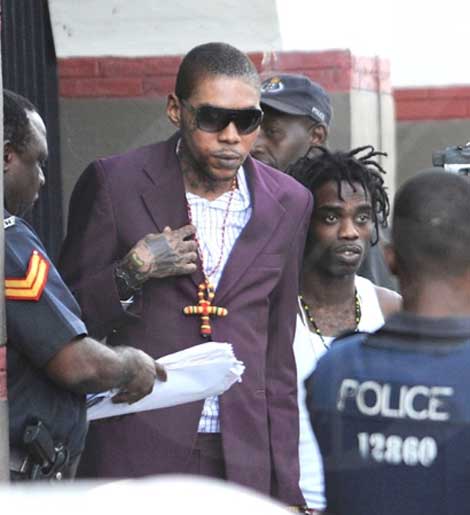 After Just 2-Hours Of Deliberations…
"At the beginning of the clip, a man in a red shirt is seen holding a pickaxe and remarked: 'Rocky, yow hear we me say a dis me ago use and kill him enuh.'"
Vybz Kartel has been found guilty in the November 2011 murder of Clive 'Lizard' Williams, the victim who Kartel is said to have believed "had stolen guns from him." This, after just two-hours of jury deliberation. The famed Dancehall artist's murder trial, reportedly involving his attempted bribery of a jury member, concluded Thursday (March 13, 2014) — after 65-days of court proceedings.
"Kartel, along with Shawn 'Shawn Storm' Campbell, Kahira Jones and Andre 'Mad Suss' St. John were all found guilty of the murder by a 10-1 majority.

Vybz Kartel and his co-accused will officially be sentenced on March 27. Kartel reportedly faces a maximum life sentence."
Though the body of Clive Williams "was never found", Justice Lennox Campbell January 28th order, green-lighting "DAMNING Blackberry messages and video," into evidence, may have been the most critical portion of the trial. Know why? The texts alone are very disturbing… and though sources say the video's images are hard to make out, what's recorded as being heard from the footage is just as graphic, if not more.
According to The Jamaican Observer, "At points during the trial, Kartel and Andre 'Mad Suss' St John could be seen leaning over and speaking in hush tones… neither was happy with the presentation of evidence."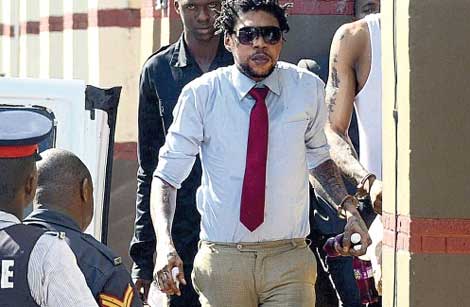 Here's what The Jamaican Observer reports:
"People in the court had their mouths agape when a message sent from a cellular phone attributed to Vybz Kartel, on August 19, 2011 was displayed on a screen and read out by prosecution witness, Detective Sergeant Patrick Linton."
During the trial, Detective Linton is said to have read the following set of DISTURBING texts…
"Tween me an u a chop we chop up the bwoy Lizard fine fine and dash him way inuh. As long as u live dem can never find him. Yeah man a mince meat dat."

"Me tell Shawn say him haffi buy dem back and mi still gi him a new 45 weh me just get fi watch him head and me tell him say any man missin dis same treatment. Member say a me name WORL BOSS so a mi dem a go send fah. But only 'wee' or 'Shawn can sink we so we haffi watch if police ago pick dem up."

"Forensic and Crime Scene de a Havendale a look blood sample and DNA. Dawg a bare f*ckery me ago tek weh meself pan a boat or somn. It look serious as f*ckery."

"From you a do crime you ever see forensic get involve like this?" Me deh far dats if anything me can leave. If me haffi lef di island fast you can assist me? u have a link that can make me lef the island fast?"

"Yeah by boat."

"Make me know before it get too hot."

"Weh Wee deh? Me want him see wha a go gwaan, is him a go die anyhow him keep up any likkle f…..y again. Weh Wee? Weh Wee?"

"Yeah, but problem child, if dem cut weh dem a go cut go? a dat a di r…s question. Hombre, dem man deh caayn cut, but if dem ever, a Shawn Storm a go buy dem back."

"Me a wait pan di (expletive) dem fi link me back and see wha dem a do if dem know a dem a go get (expletive)."

There were other voices heard on video saying…

"Chop him inna him neck."

"Hold him down and cut him throat."

"Stab him inna him neck."

"You have a knife?"

"Me nuh have no knife."

"You have a gun?

"Me nuh have no gun."

"How unu a par wid the Worl' Boss and nuh have nutten?"

"You nuh haffi swing it so hard and mek it ketch me."
A YouTube video, published on Jan 17, 2014, says the video footage features the murder victim Clive 'Lizard' Williams at a dance "8 DAYS BEFORE HE WAS KILLED"…