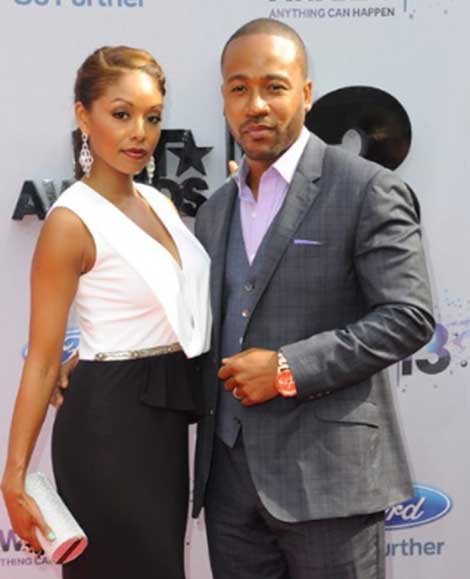 It's been more than a year since HSK broke news of Columbus and Tanee Short's Hollywood swinging lifestyle. Recently released police records of Tanees Short's April 16th restraining order against the 'Scandal' star now reveal the shocking details of what allegedly went down before dude straight snapped. It's an incident that's suspected to be the result of the pair's "open marriage". Don't believe me.. Just ask Christian Keyes.
"He [Columbus Short] allegedly began listing men he believed she was cheating on him with."
Columbus' alleged attack on his estranged wife reportedly went down back on April 7th, at the couple's L.A. home. That's about a week before Tanee filed for divorce (again) — citing "irreconcilable differences" — on April 15th.. obtaining her restraining order the following day. Part of the order required Columbus to vacate the couple's home, leading cops to "oversee" the April 16th move. Sources say Tanee Short is now seeking sole custody of the couple's 2-year-old daughter.
Check out the latest word:
"Tanee claims that, during the incident, Columbus entered her room with a bottle of wine, pretended to hit her with the bottle and then poured the wine all over her. She alleges that Columbus then got a knife from their kitchen, pinned her down on a couch and began to choke her. She claims he forced her to play a game called "Truth or Truth," and allegedly threatened to stab her in the leg if she lied to him.

He allegedly began listing men he believed she was cheating on him with and when she denied having any affairs, he allegedly held the knife to her throat and threatened to kill her and then himself. When Tanee tried to escape, she claims Columbus slashed her tire.

Columbus recently pleaded not guilty to another charge of criminal domestic violence and child abuse after he allegedly abused Tanee while their toddler and the actor's son were under the same roof."