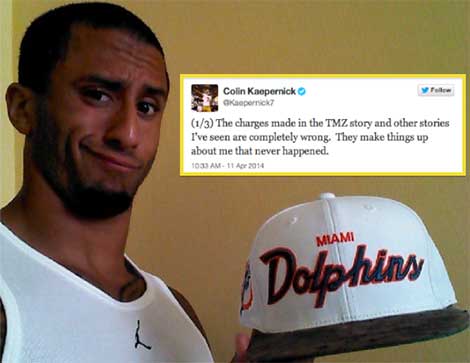 "Miami police told the San Jose Mercury News there was "no evidence" of a sexual assault and said TMZ took the report out of context."
HSK Exclusive – Colin Kaepernick may be under investigation for an alleged sexual assault, but the San Francisco 49ers quarterback sure found the time to take to Twitter.. to put the "press" in check.
"These stories made in the TMZ story and other stories I've seen are completely wrong. They make things up about me that never happened."
Let's consider these FACTS: Despite such serious allegations made against him… Kaepernick turned to social media to respond to the "very sketchy" reports. This, rather that enact his right to remain silent. Miami cops are on record stating "no evidence" supports the alleged victim's claims and no arrests or charges have been made. Plus, according to the April 4, 2014 police report, the alleged victim "has had sexual relations with Mr. Kaepernick in the past." Don't believe me.. Let's ask Teyana Taylor.
"We have very sketchy reports here of a problem involving the three football players and a woman in a Miami hotel and in an apartment."
Here's what an insider reveals:
"She is talking to the police, we don't know yet what her story is. There are indications that there are some gaps in her memory of what happened.. but this is at the moment a brand new investigation.

If he is charged with something — and that is a BIG IF, at this point — Kaepernick will potentially face team discipline; NFL discipline and perhaps more important than that he would be facing a charge in Dade County, Florida

But we need to find out a lot more before we can project. We are in the process of gathering the pertinant facts."
Check out Colin Kaepernick's Tweets:



49ers GM Trent Baalke had this to say:
"The 49ers are aware of the recent media report regarding Colin Kaepernick and are in the process of gathering the pertinent facts."
Take a look at the police report for yourself: