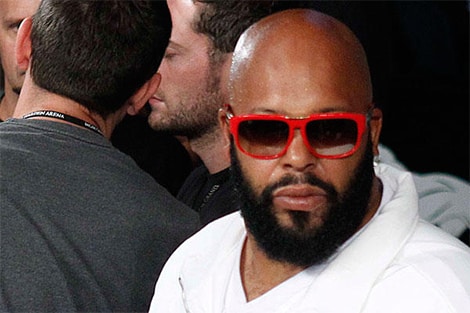 After causing mayhem on the set of the NWA biopic, Suge Knight reversed his car at a high rate of speed and killed Blood gang member, Terry Carter. Knight, fearing for his life; then fled the scene of the crime.
A source is saying Knight showed up January 29th to the N.W.A. Straight Out Of Compton filming location while Dr. Dre and Ice Cube were on set. A fight broke out between Knight and two other men when the former Death Row Records CEO was told to leave.
The source went on to say that, Bastards Of The Party star, Cle Shaheed Sloan, was also hit by Knight's vehicle.
Here's what's reported:
"Terry Carter is a friend of Suge's who arrived with him at the scene. Carter was in the process of walking to the passenger door of Suge's vehicle, but happened to be in the rear when Suge gunned it.

Suge's lawyer is arranging for his client's surrender to the Sheriff's Dept."